Occupy Oakland Movement Starts General Strike [VIDEO]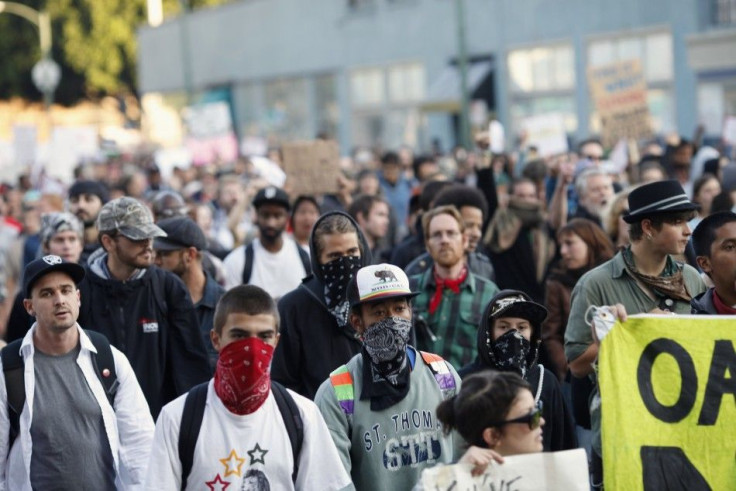 Seems like the Occupy Oakland movement has become a liberation front as its general strike starts Nov. 2.
Liberate Oakland, Shut down the 1 percent, The flyers say. Everyone to the Streets! No work! No school!
The strike marks a day of mass action as the Occupy Oakland leaders have planned rallies for 9 am, noon and 5 pm PST. The poster says that all banks and corporations much close for the day or demonstrators will march on them. The strike has received endorsements of the Million Worker March organization, a carpenters' union, and some teachers' unions in the area along with other support.
The strikers will gather at 14th and Broadway, near the Frank Ogawa Plaza that was the center of a police raid on the Occupy Oakland camp, Oct. 25. The raid started waves of protests in Oakland. That day police cordoned off the plaza and at night they fired flash bangs and tear gas into the crowd. Here is some video we took of the night's events:
Since the police intervention, the plaza has been reopened but Occupy Oakland has planned more demonstrations and legal aid for those who have been arrested during the protests.
Most of the demonstrations will be held at the plaza once again, but during the 5 pm rally the protestors will march into the Port of Oakland to try and shut it down.
If you want to monitor the activities of the strike without the threat of being tear gassed check out the Occupy Oakland twitter feed at #oostrike. The movement will be supplying its followers with tactical information on the day's protests.
© Copyright IBTimes 2023. All rights reserved.