Occupy Wall Street Rally Could Number in Thousands as Unions Join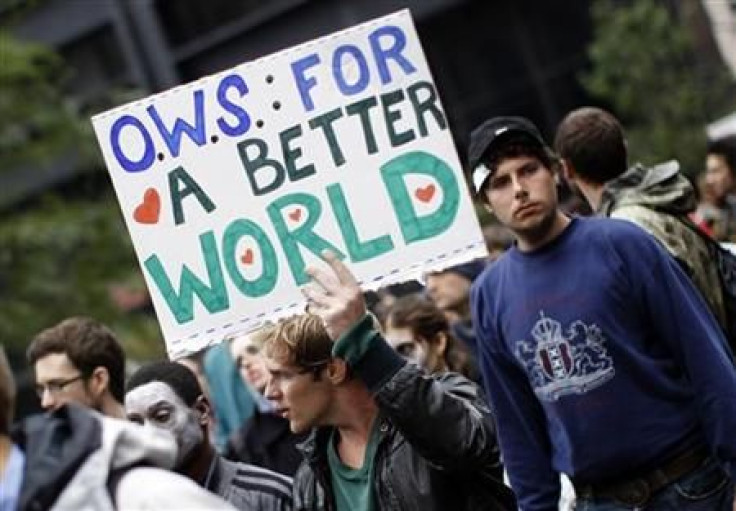 The Occupy Wall Street protest is poised to enter a new phase on Wednesday afternoon, with union support for an afternoon march and rally potentially swelling the demonstration to an unprecedented size.
The New York Transit Workers Union's unanimously vote to back the protests last Wednesday commenced a steady stream of unions pledging their support for Occupy Wall Street. Other backers have included the American Federation for State, County and Municipal Workers, the branch of the Service Employees International Union that covers New York and the New York State United Teachers, whose approximately 600,000 members make it the largest union in New York state. AFL-CIO president Richard Trumka is reportedly meeting with his board to weigh a union-wide endorsement.
We all need to be in the street right now, Trumka told In These Times.
It is unclear how many union members will in fact take to the street for the Wednesday afternoon march, which will proceed from Foley Square to Wall Street. Marvin Holland, political director of the Transport Workers Union Local 100, predicted to Mother Jones the participation of at least 10 public sector unions and estimated that between 3,000 and 5,000 would join the march. The TWU has already been supplying the protestors with food, and slammed the city's move to make bus drivers transport Occupy Wall Street protestors arrested during a march on Sunday.
TWU Local 100 supports the protesters on Wall Street and takes great offense that the mayor and NYPD have ordered operators to transport citizens who were exercising their constitutional right to protest - and shouldn't have been arrested in the first place, union president John Samuelsen told the Daily News. He called the move a blatant act of political retaliation.
The Occupy Wall Street protestors have deliberately avoided designating leadership or laying out specific demands, raising questions of whether the involvement of organized labor will change the tenor or the structure of the movement. A spokesman for the AFL-CIO said the union was intent on playing a complementary role that would preserve the original character of Occupy Wall Street.
As for our direct involvement, we want this to continue in the organic way it has, AFL-CIOSspokesman Josh Goldstein told Salon. How we can be supportive and not overshadow it is important.
© Copyright IBTimes 2023. All rights reserved.