Occupy Wall Street Spreads to Portland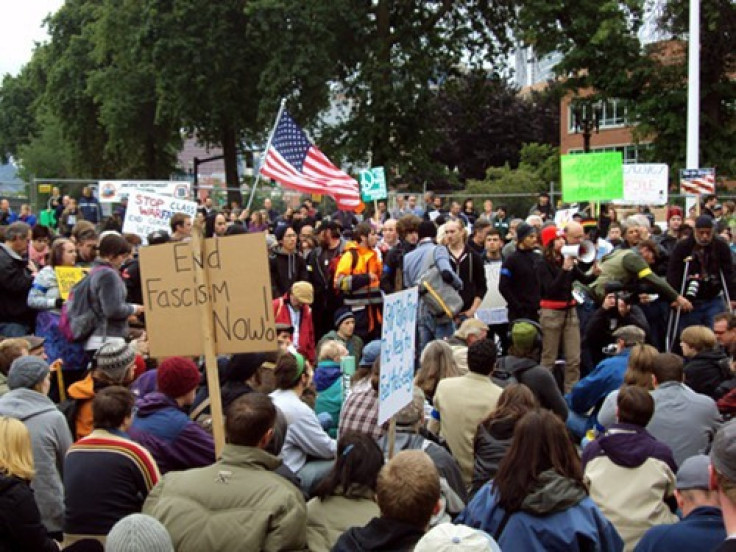 Occupy Portland, the latest in the Occupy Wall Street movement sweeping the nation's cities, began this morning at north Waterfront Park in downtown Portland, Ore.
Demonstrators are on the move again, currently heading down Second Avenue, after settling in Pioneer Courthouse Square for much of the afternoon.
Occupy Portland didn't obtain a permit for their march. The group decided late Wednesday not to seek a permit or to submit a route in advance. For best impact, the group stated in a fax to Portland Police, we will march in the streets and disrupt the city.
Despite this, officers said they were prepared for the protest and were ready to ask for help from other police agencies, if need be.
Our focus is having a safe event, just like their [focus], Sgt. Pete Simpson told Fox News today. Success to us is no arrests, no property damage, everybody goes home happy and talking about how this was a really positive event in Portland.
The crowd, estimated to be as large as 5,000 members, has been peaceful, and no arrests have been made. The large group has, however, been affecting public transportation. TriMet has announced all green and Yellow MAX service along the Portland Transit Mall on 5th and 6th avenues has been halted. Downtown businesses were warned about the protest by the Portland Business Alliance, which sent out a security warning and asked everyone to use caution.
City officials say they've been in contact with organizers. My team and I are working hard with the organizers and all the other stakeholders in the central city to put on a peaceful event, said Mayor Sam Adams.
I support Portlanders in their right to protest and exercise free speech rights, and I encourage all who participate to do so peacefully and with respect to the rights of others, the mayor said in a statement as the march began. Most of the people that are going to participate in Occupy Portland--as with most of the participants in cities across the country--are there to voice their legitimate concerns about national issues. A peaceful event is the most effective way for participants to deliver that message.
Demonstrators will choose a base tonight and settle there indefinitely. We gather in solidarity with the ongoing protest in New York City, the Occupy Portland web site states.
Occupy Portland is only the most recent addition to the Occupy Wall Street movement, which has spread across the U.S. and to some areas abroad. More than 100 cities have clocked in under the Occupy moniker, with more names appearing on the movement's unofficial cyber bulletin board, occupytogether.org, every few digital minutes. So far, Occupy Washington, D.C., Occupy Madison, Wisc., and Occupy Mobile, Ala. have sprung up, as well as protests in Adelaide, Australia, Cork, Ireland, and Cologne, Germany.
All of the Occupy movements are unified by feelings of social and economic injustice, but none have yet advocated a particular policy or targeted a particular institution. However, Occupy Wall Street did adopt a general list of grievances last week.
The closest thing Occupy Together has to a message right now is our structure, said Ivy Knight, a 20-year-old who has helped facilitate communication between the Portland movement's loosely organized committees. Having a leader, she told Fox, makes it too easy for voices to be drowned out.
That has also made it difficult for authorities to predict their actions or deal with organizers. The Portland Police Bureau has twice released statements saying it's open to working with organizers of the event to clear a route for Thursday's march.
© Copyright IBTimes 2023. All rights reserved.