An Octopus Made Better World Cup Predictions Than Goldman Sachs [PHOTOS]
A sea creature proved that instinct is better than fancy analytics when it comes to World Cup predictions.
The Wall Street Journal is reporting Paul the octopus, a now-deceased cephalopod in the U.K., made more accurate predictions for the 2010 World Cup than the investment bank has made for this year's World Cup.
So far, Goldman Sachs has had an abysmal 37.5 percent success rate during the preliminary stage of the 2014 World Cup. In 2010, the octopus' picks were 100 percent correct.
The WSJ noted the GS economics team is "much-fancied," as one would expect for one of the world's top trading firms. Goldman economists used loads of data to make their predictions. No one knows what Paul used to determine his choices.
In 2010 during the FIFA World Cup in South Africa, Paul the octopus correctly predicted the outcomes for all six of team Germany's matches. Paul, who lived at the Sea Life Aquarium in Oberhausen, Germany, at the time, also picked Spain to win the final against the Netherlands. According to The Guardian, Paul indicated his favored teams by putting food into glass cases containing flags of two opposing teams.
In October that year, Paul died in his aquarium. Sea Life Manager Stefan Porwoll said the famous octopus would be buried on the aquarium grounds and receive a "modest permanent shrine" dedicated to him.
"While this may seem a curious thing to do for a sea creature, Paul achieved such popularity during his short life that it may be deemed the most appropriate course of action," Porwoll told FIFA.
The WSJ noted -- perhaps a trifle defensively-- that Paul had an easier task than Goldman: The octopus had to pick only eight results and then the winner of the final, while Goldman Sachs has tried to pick the winners for 48 games in total. Goldman was also expected to include draws in its predictions; so far, there have been far fewer draws in the World Cup than Goldman predicted. The WSJ said that if Paul had been expected to predict possible draws, he would've been only 33 percent accurate.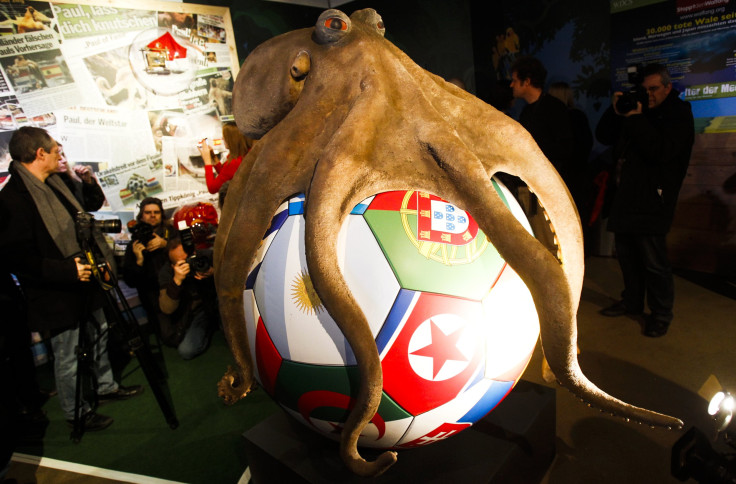 © Copyright IBTimes 2023. All rights reserved.