'Oculus' Penny Stocks Soar: Facebook Acquisition Helps Two Smaller Companies Temporarily Surge
Here we go again: Another tech company makes a major splash in the news, and a completely unrelated company profits for no reason other than having a similar name, at least temporarily.
Google Inc's $3.2 billion purchase of Nest Labs resulted in a 1,900 percent increase in shares of Nestor Inc. (trading under the over-the-counter ticker "NEST") and the Twitter IPO caused shares Tweeter Home Entertainment Group Inc. (trading under "TWTRQ") to skyrocket 2,200 percent.
On Wednesday, people desperate to make a quick buck bought shares of "OVTZ," the over-the-counter ticker representing penny stock for Oculus Vision Tech after Facebook said it would buy Oculus VR for $2 billion. In just half an hour, the stock surged 90 percent before trading was halted.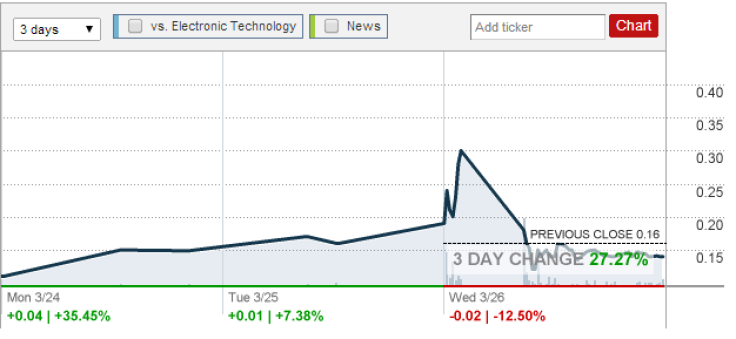 Shares of OVTZ opened at $0.18 per share and doubled before settling back at $0.30. Trading commenced again around noon, but the stock eventually finished the day down 12.5 percent.
Oculus Innovative Sciences, another penny stock trading under "OCLS" also jumped 8 percent following the Facebook announcement, but didn't go much higher than that. Still, shares of OCLS closed up around 5.5 percent.
To be fair, this mistake is slightly more excusable than confusion over Nest Labs and Twitter. Oculus VR is known for producing the Oculus Rift virtual reality headset, and Oculus Vision Tech isn't too far away. Although Oculus Innovative Sciences is biotechnology, it's hard to deny that the technology behind the Oculus Rift isn't innovative.
Did you get in early on the faux-Oculus penny stocks and strike it rich? Let us know in the comments.
© Copyright IBTimes 2023. All rights reserved.