'NEST' Penny Stock Skyrockets After Google Purchases Nest Labs
Martin Scorsese's popular and controversial film, "The Wolf of Wall Street," introduced many in the U.S. to the concept of penny stocks -- shares of small public companies that trade at extremely low prices.
Probably hoping to get in on some of the lavish parties that Leo DiCaprio's character indulges in throughout the movie, some investors threw their money into a penny stock, one with the over-the-counter ticker "NEST," when news broke that Google Inc. (NASDAQ: GOOG) purchased Nest Labs for $3.2 billion.
But the NEST ticker doesn't represent Nest Labs. NEST represents Nestor Inc., a Providence, R.I.-based company that produced automated traffic enforcement systems and sells them to state governments.
Shares of Nestor jumped from 0.2 penny to 4 cents on Tuesday following Google's announcement, a whopping 1,900 percent increase.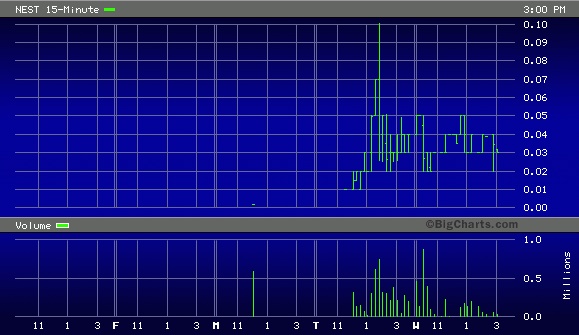 This isn't even the first time that owners of Nestor shares profited from Nest Labs. Shares of NEST spiked to 11 cents on Oct. 18, which coincides with the announcement of the Nest Protect smoke alarm.
A similar mix-up happened in October when Twitter made its initial public offering and began trading on the New York Stock Exchange under the ticker "TWTR." The next day, Tweeter Home Entertainment Group Inc., a bankrupt electronics retailer that traded with the over-the-counter ticker "TWTRQ," skyrocketed 2,200 percent. The company eventually changed its ticker to "THEGQ."
Some have pointed out that this could be a form of insider trading, but it's unlikely to be taken to court.
Perhaps this is the new trend that will create the next wolf of Wall Street: investing in penny stocks that bear a similar name to companies involved in a major IPO or acquisition and betting that dumb buyers will invest after the news.
Shares of Nestor Inc. closed at 3 cents today, down 25 percent from opening. The International Business Times was unable to reach Nestor Inc. for a comment.
© Copyright IBTimes 2023. All rights reserved.