Ohio Redistricting Process Favored Boehner, Republican Incumbents and Their Donors: Report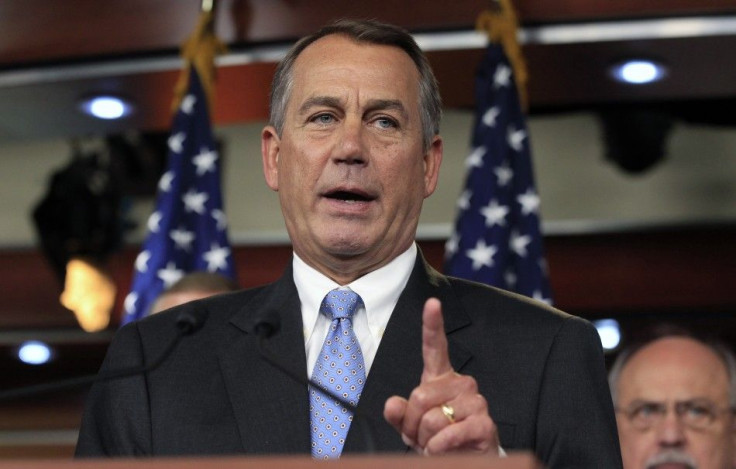 Members of Ohio Congressman and House Speaker John Boehner's campaign operation and staffers for the National Republican Congressional Committee took a prominent role in state's controversial gerrymandering of district maps, according to public records obtained by a coaltion of voter advocates. Some of the moves kept key political backers in districts they have heavily invested in through campaign donations.
The coalition, a collective of 25 voters' rights groups called Ohio Campaign for Accountable Redistricting, released The Elephant in the Room, which chronicles the various misdeeds in the path to the proposed redistricting map.
The records show Tom Whatman, executive director of campaign group Team Boehner, worked with consultants, the National Republican Congressional Committee, and Ohio statehouse leaders to create districts that have been decried as unfair by Democratic operatives.
Whatman's correspondence with the group working on district maps became more frequent as their deadline approached. In one instance, he requested a chunk of the 16th district be molded to include Timken Co., a local company that deals in refining and molding metals.
Guys: really really sorry to ask but can we do a small carve out down 77 in Canton and put Timken in the 16th, Whatman wrote on Sept. 12, according to the email exchanges. Thanks guys. Very important to someone important to us all, he wrote after the change was greenlighted.
Canton-based Timken Co. is 16th District Rep. James Renacci's, R-Ohio, second biggest campaign contributor, according to opensecrets.org, giving him $120,000. The site also estimates the Congressman holds anywhere between $81,755 to $186,752 in assets with the company. The resulting district has a peninsula sticking out to include Timken, with a population of zero.
The September revelation of Ohio Republicans' new district map led the state's Democratic Party to push for a ballot initiative challenging the map in next year's election. The group has until Christmas to cull together the correct number of signatures.
Politicians Choosing Their Voters
The Ohio Campaign for Accountable Redistricting pushed for the public revelation of the communications, following the early outrage over the bizarre new district maps. Jim Slagle, the coalition's Manager, said the states' Republican party made a calculated move to favor itself with its new maps.
We have politicians choosing their voters instead of the other way around, he said.
The report also alleges the legislators and parties involved were kept behind closed doors intentionally, public review of the proposed maps was limited, and Republicans sought to save millions in campaign expenditures by making red districts redder.
We are trying to shine a light on what took place in the political backrooms, since very little took place in public, Slagle said.
Major politicos involved or named in the correspondences have not responded to requests for comment.
© Copyright IBTimes 2023. All rights reserved.