Ohio State vs. Michigan Football 2015: Early Prediction, Betting Odds, Preview For Rivalry Game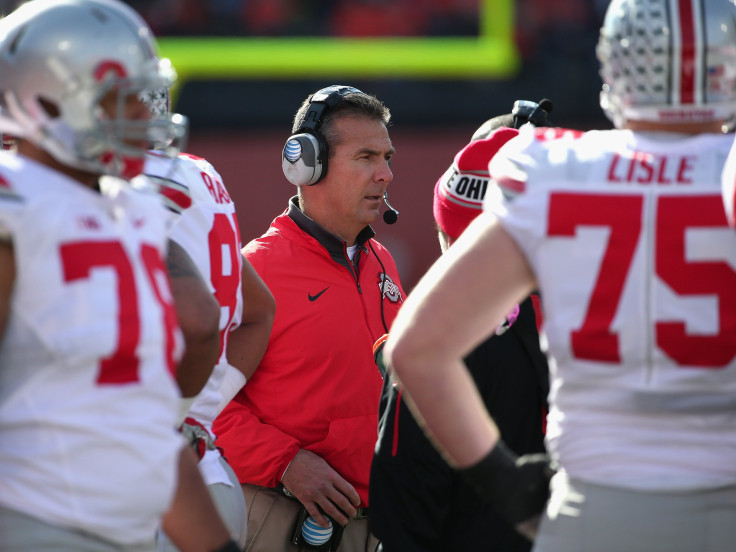 As if No. 8 Ohio State and No. 12 Michigan's 118-year-old rivalry needed any more fuel, the Big Ten's two most storied programs are both in need of a victory for a shot at the conference title game.
Heading into Saturday's regular season finale at Michigan Stadium in Ann Arbor, the Buckeyes and head coach Urban Meyer are coming off their first loss of the season and first in their last 24 games while trying to stay in the College Football Playoff committee's purview and the conference title hunt.
Ohio State fell to Michigan State 17-14 and lost control of the East division, resulting in questions about the Buckeyes national and conference championship hopes and a six-spot drop in the Associated Press Top 25 after spending the first 12 weeks of the season in the top three.
The Wolverines reached their highest-ranking in head coach Jim Harbaugh's first year on campus by pummeling unranked Penn State 28-16 on the road, and while a spot in the national title playoff is all but completely ruled out Michigan remains in contention for its first Big Ten title since 2004 after a poor 5-7 campaign last season.
But both teams will need some help from No. 9 Michigan State to climb the conference ladder. The Spartans will end their regular season against Penn State over three-and-half hours after the Buckeyes and Wolverines kickoff, and a loss ends their shot at a second appearance in the Big Ten championship in three years.
But Meyer and Harbaugh will be quick to remind their respective teams of what they can and can't control. All either side can do is gun for a victory over their most hated rival, and in recent years the Buckeyes have held a distinct advantage.
The Wolverines own the all-time mark at 58-46-6, but Ohio State's won three straight including last season's 42-28 thumping that saw the end of Brady Hoke's tenure as coach and ushered in Harbaugh's return to his alma mater. Yet despite recent history, odds makers have given the Wolverines relentless and No. 6-ranked defense a slight 1.5-point edge over the Buckeyes No. 2 defense.
The Buckeyes have allowed 14.1 points per game and the Wolverines 14.9, both impressive numbers, but the latter's faced some stiffer competition this season. Ohio State's loss to the Spartans was its first matchup with a ranked squad all season, compared to Michigan's three meetings against ranked opponents, two of which resulted in victories.
But this is a matchup that will come down to whether the Buckeyes talent-rich offense can score enough points to bury the Wolverines limited attack.
Ohio State will undoubtedly turn to junior running back Ezekiel Elliott to set the tempo. He's tallied 1,458 yards and 17 touchdowns on the ground this season and many, including Elliott, felt Meyer's decision to feed the prolific rusher only 12 times against the Spartans led to the loss.
The Buckeyes will of course try to strike a balance against the Wolverines and look to quarterback J.T. Barrett to string together some long drives with some deep strikes to receivers Michael Thomas and Jalin Marshall. Barrett went 9-for-16 for only 46 yards and one touchdown to Marshall against the Spartans.
Ohio State certainly has more offensive fire power, but its rushing defense is No. 7 in the conference allowing 133.7 yards per game and the Wolverines are third in the Big Ten with 25 rushing scores. Michigan will heavily deploy versatile running back De'Veon Smith to give quarterback Jake Rudock a cushion against a Buckeyes pass rushed that's accumulated 32 sacks, third-best in the Big Ten.
Betting Odds: Michigan -1.5
Over/under: 45 points
Prediction: Michigan over Ohio State, 20-17
© Copyright IBTimes 2023. All rights reserved.