Oil Refinery Strike 2015: Steelworkers Union, Royal Dutch Shell Resume Contract Talks In Houston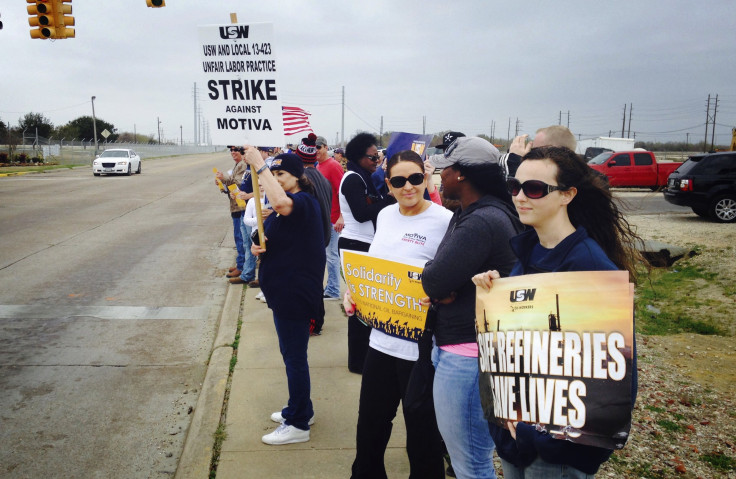 Negotiations resumed this week between the United Steelworkers (USW) and Royal Dutch Shell to put an end to the first nationwide refinery strike since 1980. Launched on Feb. 1 after the union's previous labor contract expired, the job action now involves about 7,000 workers at 15 plants, including major refineries in Texas, Louisiana and California.
"Shell remains committed to negotiating a mutually satisfactory agreement," company spokesman Cameron Yost said in a statement. "Slow progress. Stay united and strong," a Monday night text message alert from the USW said. Union spokeswoman Lynne Hancock said she could not provide further details.
The USW, which represents 35,000 workers at 65 refineries, and Shell, representing the oil industry, are trying to hammer out a new three-year national agreement. In the last month, bargaining has hit an impasse: The union says it is striking primarily over safety issues; Shell insists that's inaccurate. The company says the USW's central demand is for refineries to contract with union members for maintenance work.
However, "there's even a safety component to using nonunion members for daily maintenance," Hancock said. "They're going from to job to job, in different facilities where they're not as familiar with the sites."
As the strike persists, labor-management tensions have grown. Over the weekend, several hundred striking workers on a protest march were blocked by police from entering Shell's headquarters in Houston. No arrests were made. "We wanted to see if they would talk to us about the negotiations," Lee Medley, president of a local representing two groups of striking refinery workers in Texas, told Reuters.
Meanwhile, in the San Francisco Bay Area, oil company Tesoro has pointed to safety risks posed by union picket lines for its decision to close more than a dozen baseball fields near its Martinez, California, refinery. However, the company has declined to provide evidence of strike-related safety incidents.
The union has floated the possibility of expanding the strike as a bargaining tool. Although the refineries on strike account for about a fifth of total U.S. production, the labor dispute hasn't managed to substantially alter output. Refineries have relied mostly on replacement workers and managers to fill the labor shortage.
© Copyright IBTimes 2023. All rights reserved.