Oil Spills Linked To Floods Reported In Colorado; Drilling Activities Temporarily Suspended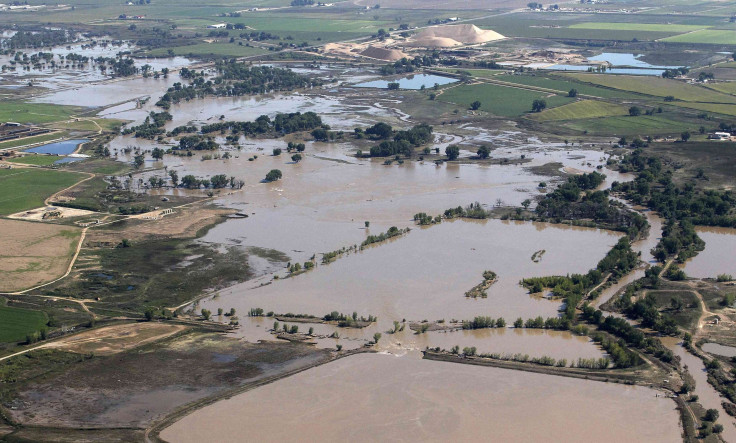 Drilling activities at hundreds of natural gas and oil wells in Colorado have been temporarily halted after the recent flooding in the state caused two major oil spills with the potential to cause serious environmental damage, sparking concerns that the region's energy output would take a hit over the coming months.
Anadarko Petroleum Corporation (NYSE:APC) reported to state and federal regulators that its storage tanks have spilled 125 barrels containing 5,250 gallons of oil into the South Platte River, and 323 barrels (13,566 gallons) of oil into the St.Vrain River north of Firestone, Colo., the Colorado Oil and Gas Conservation Commission, or COGCC, said in a statement on Thursday.
"This is the first sizable event that we know of," Todd Hartman, spokesman for the Colorado Department of Natural Resources, which oversees COGCC, was quoted as saying by the Denver Business Journal.
Noble Energy, Inc. (NYSE:NBL), another energy company operating in the region, said Wednesday that it alerted the COGCC about one of its wells that "appears to be releasing a limited amount of natural gas," the Journal reported.
Noble Energy operates about 8,000 wells in oil fields located north of Denver, according to the Journal, and it has shuttered about 5 percent to 10 percent of wells due to damage caused from flooding.
COGCC said it is tracking 10 oil releases, including the two major ones reported by Anadarko, adding that the other eight minor spills were being considered as "sheens coming off a piece of equipment rather than a measurable volume of petroleum product."
The commission said Anadarko deployed absorbent booms to contain the spill in the South Platte River, but the booms collected residual oil in standing water around the storage tanks, instead of oil that was released into floodwaters leaving the site.
"These spills are not an unexpected part of many other sources of contamination associated with the flood. Those include very large volumes (millions of gallons) of raw, municipal sewage and other hazards associated with households, agriculture, business and industry," COGCC said.
© Copyright IBTimes 2023. All rights reserved.