Olive Branch From Pakistan? PM Nawaz Sharif Wants Peace With India And An End To South Asian Arms Race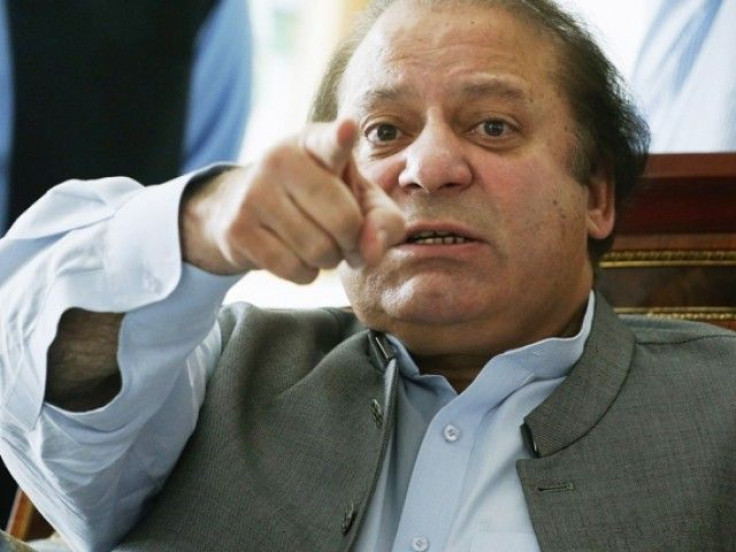 Nawaz Sharif, the recently elected Prime Minister of Pakistan, said he wants to establish peace with India and end the expensive arms race between the two South Asian rivals.
Sharif, 63, now the most powerful politician in Pakistan for a third time (he lost the Prime Ministry in 1999 when the army chief General Pervez Musharraf staged a bloodless coup to topple him), told the Daily Telegraph that peace with India (and the Taliban) is directly linked to economic progress. He also noted that his electoral triumph was not predicated on appealing to the Pakistani public's hostility to India.
"If we have to prosper, there has to be progress on this," he said. "We didn't have any India-bashing slogans in the elections. We don't believe in such slogans. There have been such slogans in the past … but not now. In fact, I very clearly spoke about good relations with India even before the elections were happening." He vowed that he will "reach out to India, sit with them, [and] resolve all our outstanding issues, including the issue of Kashmir, through peaceful means."
The Telegraph suggested that Sharif means to pick up where he left off in 1999. Since that fateful year, he spent time in jail (although all his criminal convictions were later overturned) and then in self-exile in the U.K., Britain, Saudi Arabia and Dubai. He asserts that his previous regime (which lasted from February 1997 to October 1999) was successful. (His first term in office was in the early 1990s). As a business-minded conservative, Sharif had, among other economic reforms, privatized some banks, insurance firms and companies in other important industries during his first tenure in power.
"We did deliver. We were able to meet the expectations of the people to some extent," he said. "That is why we were re-elected in 1997, and that is why we have been re-elected in 2013. If I take you back to the 90s, our party came up with very bold reforms in the country, economic reforms. They were really revolutionary reforms." He said he's "the same politician who's trying to pick up the threads" of where he "left off."
Now, with a clear mandate and a sharp focus on improving the country's ailing economy, Sharif wants foreign investors, particularly the U.K., to ease Pakistan's chronic power shortages by constructing new electrical plants. He also wants to cut taxes (both personal income and corporate), despite how many of Pakistan's wealthy elite (which, of course, includes, scores of corrupt politicians) don't pay any taxes at all.
With respect to the Taliban and other Islamic fundamentalists living in Pakistan, Sharif pointed to the 40,000 people who were killed by terrorism in the past decade or so, and he said those deaths made negotiating peace deal an urgent priority. As such, his young government plans to release a new "national security strategy" to cope with the endless sectarian attacks, which will emphasize negotiations rather than a be show of military force. "I believe that there may be no harm in exploring the other option of having dialog with [the Taliban] if they're at all serious, and if we find them serious enough -- and if we think that talks can yield positive results," he said. Sharif compared his nation's circumstances to the historic conflict between the British government and Irish nationalists. "Britain had to talk to Ireland," he said.
At least one senior Taliban official welcomed Sharif's call for peace talks. According to a report in Pakistan's Dawn newspaper, Asmatullah Muawiy, a Punjabi Taliban senior commander who is also linked to the Tehrik-i-Taliban Pakistan (TTP) militant group that's based in the country's northwest frontier, said the government's offer shows political maturity and that militants should react positively to Sharif's entreaties.
However, Sharif is perhaps more concerned with establishing a lasting peace with neighbor India -- particularly over its dispute in Kashmir -- and putting an end to the financially crippling arms race between the two nuclear nations. "We've been in a very unfortunate arms race with India ever since Partition [in 1947], and I think we are a very unfortunate country from that point of view," the Prime Minister said. "Both Pakistan and India have wasted so much money on military hardware, building up their defenses against each other. They've been running after MiG-29s [Russian-made jet fighters], we've been running after F-16s [US-made jet fighters]; they've been buying more tanks and we've been buying more military hardware. We've been running after submarines -- how expensive they are! -- and then of course India was the first one to tread the nuclear path."
He added: "I think this must come to an end. The money wasted on defense should have gone into social sectors -- it should have gone into education, it should have gone into health care. I hope that both countries realize this, realize these mistakes that we've made. I think the main objective of making peace with each other is to get rid of all that. We've got to sit with India and discuss this matter."
Combined, India and Pakistan have about 1.65 million troops (two-thirds of which are India's) in Kashmir, with defense and debt repayments consuming more than half (54 percent) of Pakistan's federal budget (and education receiving only 2 percent). Sharif added that India, too, must, reduce its defense expenditures.
Last month, defense and security analysis firm IHS Jane's reported that by 2017, the size of India's military budget will surpass Great Britain's military budget. By 2020, Jane's projects, India will be the fourth-largest buyer of defense-related arms, behind only the U.S., China and Russia. By that point, India's defense budget may reach $65.4 billion (up from under $40 billion now). New Delhi is purchasing warships, missile batteries, artillery guns, fighter jets, tanks and transport planes -- partly to keep up with neighbors China and Pakistan. India and Pakistan also boast a nuclear arsenal -- each side has at least 100 atomic warheads.
It is unclear if India will immediately warm up to Sharif's calls for peace and negotiations. Press Trust of India reported earlier this week a spokesman for India's External (Foreign) Affairs ministry squelched any hopes that Prime Minister Manmohan Singh will agree to meet with Sharif any time soon. "Certainly an environment in which terrorism or violence is perpetrated against India is not the right type of environment for this," the spokesman said, referring to recent violent incidents on the border between the two nations.
© Copyright IBTimes 2023. All rights reserved.
FOLLOW MORE IBT NEWS ON THE BELOW CHANNELS