ONE 164 Main Eventers Get Into Heated Conversations During Sit-Down Interview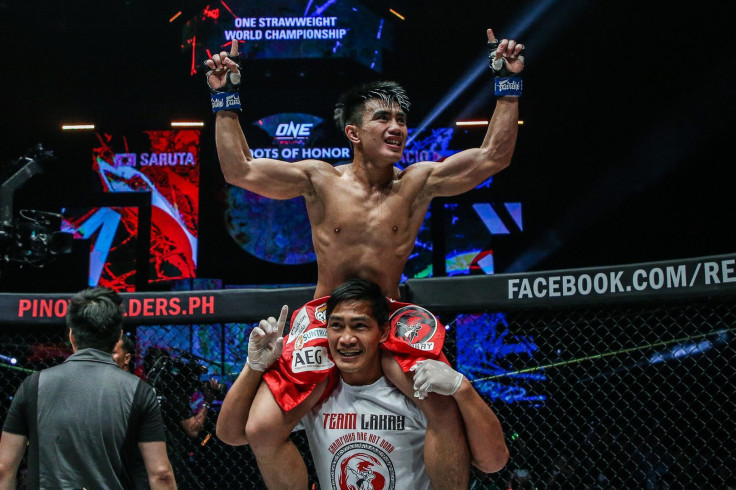 KEY POINTS
Joshua Pacio and Jarred Brooks had a virtual face-off recently
Both fighters' passion to get the win over the other oozed through the screen
ONE 164 is set to take place on December 3
ONE strawweight champion Joshua Pacio and No. 1 strawweight title contender Jarred Brooks are set to take the mixed martial arts (MMA) world by storm when they meet at the center of the cage in the headlining fight of ONE 164 in Pasay City, Philippines.
The fight was originally scheduled for June 3 at ONE 158, but it was postponed just a few weeks out after the promotion claimed a "scheduling conflict."
The ONE Championship strawweights recently sat down with International Business Times sports editor and combat sports analyst Nissi Icasiano and local Filipino reporter JM Siasat on Sparring Sessions to discuss the postponement and what lies ahead on December 3.
"I was actually super confused until now. I wanted to fight Joshua and get that belt as soon as possible and then if he wanted to run it back, even to this day, we can do that. I'm just super excited to share the circle with Josh (Pacio) finally and get this done," Brooks said of the postponement.
As noted by Icasiano, rumors of Brooks pulling out due to injury had circulated the internet before the apparent truth had come to light: the scheduling conflict was due to Pacio being pulled aside to film a reality TV series under ONE Championship.
In Brooks' eyes, he would have done everything in his power to convince ONE Championship to delay the filming of the show in order to have the championship fight first had he been in Pacio's shoes.
The conversation eventually turned into pre-fight banter as both fighters had a lot to say about the other, with Brooks extremely confident in his abilities.
At the same time, Pacio still engaged in a bit of trash talk while brushing off his opponent's threats with a smile and a laugh.
"As an athlete, you have to sacrifice time [and] everything just to train. When the fight is canceled, the sacrifices went for nothing," Pacio noted after being asked about his thoughts on the fight being postponed.
As talks eventually shifted to fight night, Siasat asked "The Monkey God" for his thoughts on fighting in front of what is expected to be a jam-packed SM Mall of Asia Arena with about 20,000 fans supporting their hometown hero in Pacio.
"I'm an energy vampire, man. All of that energy is put into one little circle, I can take all of that energy and just bunch it up, feel all of it and use it against any kind of opponent. It's not like I haven't been in a hostile territory," Brooks asserted while mentioning his experience fighting in Brazil.
"I'm ready for that. I live for moments like that. Give me all of the hate, I want it, please. Because at the end of the day, I want the whole crowd to just be super quiet and they're gonna be sad."
With an ever-confident challenger going up against an unfazed champion, parts of the interview eventually devolved into trash-talking as both men are raring to have their white-hot feud take place at ONE 164.
Pacio stressed that Brooks' strength on the ground and growing striking game are not to be dismissed and when asked about his opponent's weakness, Pacio elected not to divulge anything else other than a "special gameplan coming up for this fight."
With the format being able to have fan questions be answered by both fighters, Siasat floated a question for Pacio regarding how the fight will play out.
"Like what I've said, I'm not looking for a finish. I'm looking to showcase the improved, well-rounded Joshua Pacio. If there's a finish, I'll get it. If there's an opportunity [to do so], I'll get it," the strawweight king gladly proclaimed.
With the fight set to take place on December 3, the MMA world's fixation on the blood feud between Pacio and his most formidable challenger yet in Brooks is set to provide some fireworks inside the cage.
The full interview can be viewed here.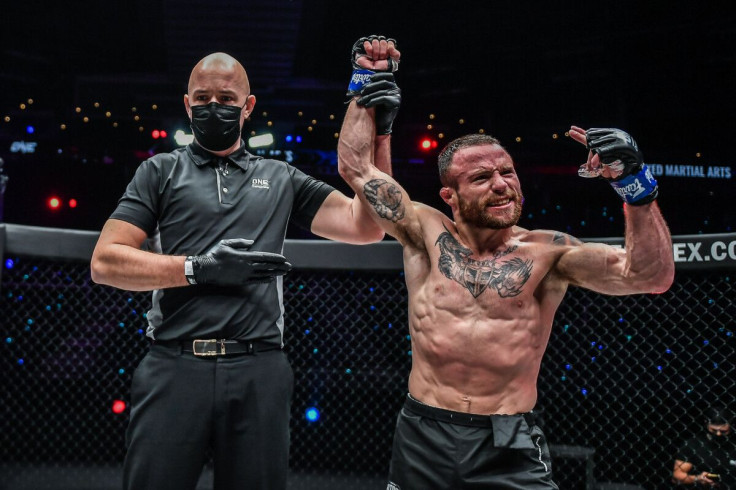 © Copyright IBTimes 2023. All rights reserved.