One Year After Bangladesh Factory Collapse, Many Survivors Jobless, Wounded, Awaiting Full Compensation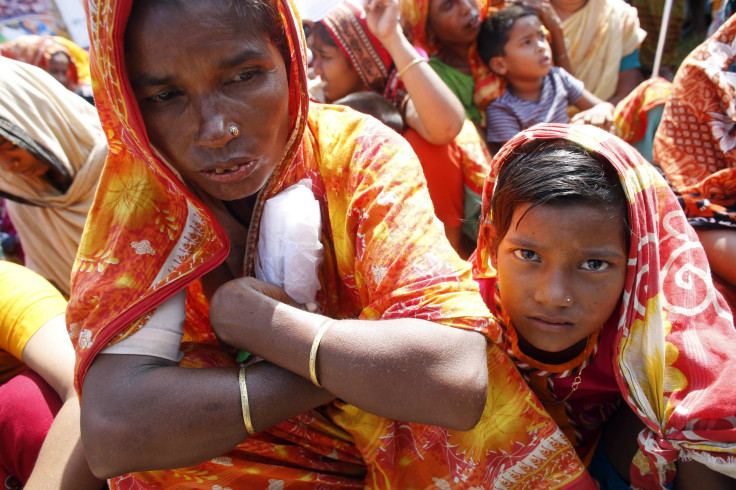 One year after a deadly factory collapse killed more than 1,100 people in Bangladesh, the majority of the incident's survivors remain unemployed or unfit to work, while financial aid from the government has been slow to arrive.
ActionAid International, an antipoverty NGO and international development agency, said that 74 percent of the 2,500 survivors of the disaster at Rana Plaza outside of Dhaka remain too traumatized or wounded to return to work, while a "majority" of the relatives of the deceased are struggling to survive and awaiting full compensation from the state and multinational retailers that outsourced manufacturing at the factory.
Farah Kabir, ActionAid's country director in Bangladesh, said that survivors have received average payments of $1,086, with some victims getting as little as $20 (in a country where the average annual income totals about $1,000, according to government data).
A group of retailers and labor groups, along with the Bangladesh government, created a $40 million compensation fund to assist the victims' families, the New York Times reported. ActionAid estimates that only $15 million of the $40 million has been disbursed to the Rana Plaza Donors Trust Fund, which the Bangladesh government oversees to coordinate compensation for the victims.
More than half of the aforementioned $15 million has come from just one firm, private U.K. retailer Primark Stores Ltd., but Human Rights Watch noted that some 15 Western brands that used labor at Rana Plaza have not yet contributed to the fund.
ActionAid also said that another 8 percent of survivors have been refused other jobs, either because of their injuries or because of fears they might become involved in trade union activism. In addition, about one-tenth of the survivors have injuries that worsened due to inability to pay for ongoing medical treatment.
"Of those who do not have jobs, some 64 percent said they were suffering from ailments, including amputations, severe chest, head [and] limb injuries or have [had] their spines broken," ActionAid's Amanur Rahman said, according to Khabar South Asia.
To illustrate the importance of the garment sector, some 4 million Bangladeshis (an overwhelming 90 percent of them women, according to estimates) toil in the industry, which generates almost $20 billion in annual exports. That makes it the biggest source of foreign currency for Bangladesh, the second largest textile exporter after China. That export figure also far exceeds the estimated $15 billion in annual cash remittances sent home to Bangladesh from its vast diaspora in the Middle East, Europe and North America.
But the Rana Plaza disaster has created long-term problems for the families of thousands of poor Bangladeshis. ActionAid reported one Rana Plaza survivor, 21-year-old Naznin Akhter Nazma, who lost her husband in the collapse and now lives with her aunt and uncle. She is unable to work due to injuries and has no income. "I heard that the government and the garment companies will compensate us, but I haven't received anything from them except one month's salary and 20,000 taka from the government for my husband's funeral," Naznin told ActionAid.
Even victims who lost limbs in the factory collapse have received inadequate compensation from the government. Rabeya Begum, a former employee at Rana Plaza who had both of her legs amputated in December, told HRW that she received a total of about $4,500 from various donors, but that money has now almost run out. "I have four children and my husband can no longer work because he needs to look after me," she said. "We are now only living off the money I received when I was in [the] hospital. This is about to be finished, and I don't know what we will do once we spend this money."
Other survivors are plagued by trauma and psychological issues that render them incapable of working. Alamgir Hossain, a 27-year-old man who worked at Rana Plaza, told HRW: "After I left the hospital, I took a job at [another] factory, but I could not continue for more than four months. Whenever there was a fire alarm I started screaming … I had to leave the job, now I am struggling to support my wife and a kid."
The tragedy at Rana Plaza incited critics within Bangladesh and elsewhere to implore the nation's government and industry leaders to improve safety standards in the garment factories. In July 2013, the Bangladesh government reformed its labor code in response to threats from the U.S. and E.U. that they would restrict trade with the country. Among other things, the amended law called for companies to set aside 5 percent of profits for an employee-welfare fund.
However, the measures were deemed inadequate by the International Labour Organization (ILO) to prevent further industrial tragedies or strengthen worker rights. In addition, company bosses often punished or fired anyone seeking to form a union. Babul Akhter, president of the Bangladesh Garment and Industrial Workers Federation, told the New York Times that such legislation has actually made unionizing even more difficult in a country where laborers enjoy virtually no rights with respect to job protection or safety.
The United States has also expressed its concerns over workers' rights and safety in Bangladesh. "There's still a lot of work that needs to be done, particularly on the legal side of things with regard to labor law," a senior U.S. official told Agence France Presse.
On a more hopeful note, the U.S. State Department praised the Dhaka government for allowing more than 140 unions to be officially registered and for agreeing to implement more stringent factory safety measures as mandated by the ILO. Still, Washington warned that Bangladesh needs to make some real improvements in worker safety.
"The Bangladesh government's hiring of [safety] inspectors is lagging, and the results of inspections need to be made publicly available on an easily accessible database," the State Department said. "Bangladesh must also do more to ensure protection when workers face intimidation and reprisals for trying to organize."
© Copyright IBTimes 2023. All rights reserved.