One Year After Eric Garner: Family And Friends Mark Anniversary Of Chokehold Death In Staten Island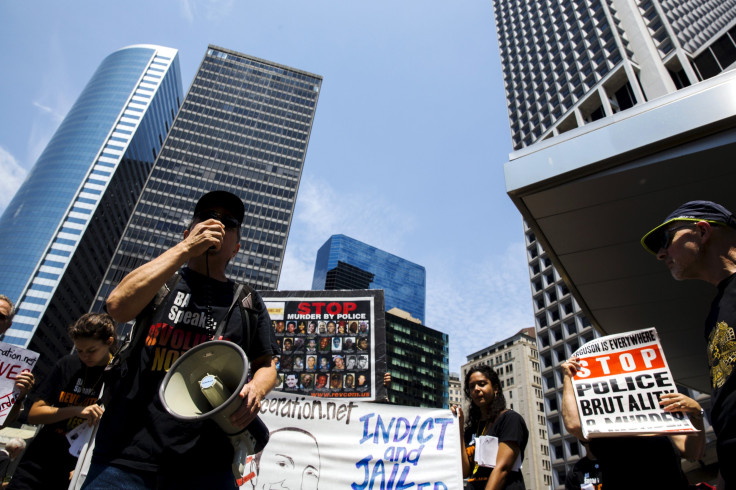 Family and friends commemorated the one-year anniversary of Eric Garner's death Friday in the Staten Island borough of New York City by releasing a dove near the street where he died last summer. Garner's daughter Legacy, 1, and her mother, Jewel Miller, joined about 50 other supporters outside the Bay Beauty Supply Store on Bay Street and chanted his last words, "I can't breathe," the New York Daily News reported.
"She knows her dad spiritually, but she's never going to know him physically," Garner's godsister Danielle said of Legacy, the Daily News reported.
Garner, 43, died July 17, 2014, after the arresting police officer, Daniel Pantaleo, placed him in a chokehold and other officers wrestled him to the ground for allegedly selling untaxed cigarettes. A bystander uploaded a video of the arrest, spurring national outrage over the police officers' treatment of Garner. In the footage, Garner was seen struggling with police, repeatedly gasping, "I can't breathe." Those words quickly became a mantra for protesters who rallied against a grand jury decision in December not to indict Pantaleo.
"Eric was anybody's best friend," Miller said Friday, the Daily News reported. "People he met and came across, he really showed love in the neighborhood. He was really a good man. I'm going to miss him."
The people who attended the commemoration wore white T-shirts with a photo of Garner under the words "A Year Without Justice," and children wore shirts that read "Black Lives Matter," the New York Times reported.
Those who could not attend the commemoration showed their support for Garner and his family on social media. Activists throughout the U.S., particularly in New York City, were vocal about reforms that still needed to be made in the police system.
Even movie stars and artists showed their support for Garner's commemoration by circulating a documentary about his death on Twitter.
The commemoration ceremony came just days after New York City reached a settlement with Garner's family. The city has agreed to pay $5.9 million in resolution of a claim over his death at the hands of New York Police Department officers last July, a lawyer representing the family told the New York Times. In October, Garner's family filed a notice of claim to sue the city for $75 million, alleging negligence and carelessness by the police, which resulted in his death, according to New York's WNBC-TV.
Other events scheduled for Friday include:
• A 5:30 p.m. march beginning at Columbus Circle in Manhattan.
• A 5:30 p.m. vigil led by Assemblyman Michael Blake of the Bronx outside his office at 780 Concourse Village West.
• A 7 p.m. memorial at the House of the Lord Pentecostal Church at 415 Atlantic Ave. in Brooklyn.
• A 7:30 p.m. memorial at Canaan Baptist Church of Christ at 116th Street and Lenox Avenue in Harlem.
In addition, the Rev. Al Sharpton will hold a rally Saturday outside the federal courthouse in Brooklyn.
© Copyright IBTimes 2023. All rights reserved.