New York Police Officers Withheld Key Details On Eric Garner's Death In Initial Reports: New York Times Investigation
New York Police Department officers failed to disclose key details in initial reports on the death of Eric Garner, an unarmed black man in Staten Island who died in their custody last July. Internal documents prepared hours after his death did not mention that Officer Daniel Pantaleo had wrapped his arm around Garner's neck in a chokehold, the New York Times reported Saturday.
The Times said it obtained previously undisclosed police documents and conducted interviews that shed new light on Garner's arrest and its deadly conclusion. His death was one of a series of police killings of black men that caught the country's attention, sparking an ongoing debate over U.S. law enforcement and race relations. Demonstrations erupted across New York after a grand jury voted in December not to indict Pantaleo for choking Garner.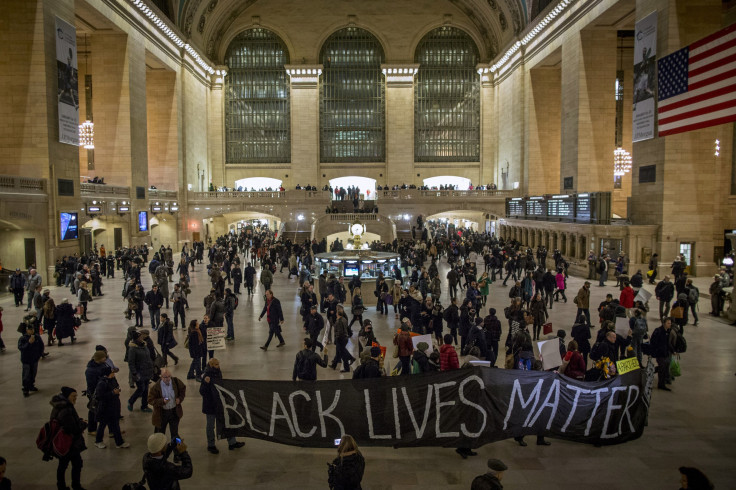 Before the fatal encounter July 17, New York police had already singled out Garner as a source of problems in the neighborhood. He and a handful of other middle-age men were accused of loitering and selling untaxed cigarettes, which some local merchants saw as unwanted competition, as the New York Times reported. Garner, who was arrested in March and May of last year, used the money from illegal cigarette sales to support his wife and their six children.
When a lieutenant with the NYPD's 120th Precinct drove past the group of cigarette sellers on Bay Street that July morning, he called the precinct. Officers Pantaleo and Justin Damico were sent in plainclothes to investigate. Garner and a friend, Ramsey Orta, 23, had just come from eating lunch, when the former attempted to end a scuffle that had broken out between two other men, the Times reported.
As the police officers approached Garner, Orta began taking a 16-minute video that later provided critical evidence about the events -- and helped expose gaps in the initial police reports.
"We can do this the easy way or the hard way," Damico told Garner, according to a transcript of the videos prepared by the NYPD's internal-affairs bureau and reviewed by the Times. The transcript documents nearly two minutes of a back-and-forth exchange between Garner and the two officers, footage not included in the widely circulated clip of Orta's video.
According to the New York Times, Garner asked, "For what, what did I do?" And Damico replied, "For selling cigarettes."
During the encounter, officers attempted to grab Garner's arms at least twice, the transcript revealed. "Don't touch me please, do not touch me," he told them.
In anticipation of an arrest, Pantaleo radioed for backup, then swung one arm over Garner's shoulder and around his neck in an attempt to pull Garner to the ground, the Times reported. The pair struggled, bumping against the window of Bay Beauty Supply, as at least four uniform officers arrived on the scene.
In the video, Pantaleo is seen releasing his arm from Garner's neck to press the man's head to the pavement. Damico and two patrol officers helped handcuff Garner as he repeated, "I can't breathe."
Yet an internal police report issued hours after Garner died did not mention the fact that Pantaleo wrapped his arm around Garner's neck, according to the Times. Instead, the report quoted a witness who described seeing the officers take Garner "by the arms and put him on the ground." That same witness, Taisha Allen, later said she told a Staten Island grand jury that she witnessed the chokehold. She said the quote in the police report was not accurate, the Times said.
City medical examiners who conducted Garner's autopsy said they didn't know Pantaleo put his hands on Garner's neck and placed him in a chokehold until Orta's video was released. "We found out when everyone else did," a former senior police official familiar told the Times on the condition of anonymity.
The video images were cited in the final autopsy report as a key factor that led the city medical examiner to conclude the chokehold and chest compression by the police caused Garner's death, according to a Times review of the confidential report. Without those key details, many in the NYPD might still believe his death was caused solely by health problems, including asthma, hypertension and obesity. Garner was 6 feet 2 inches tall and weighed 395 pounds.
Stephen Davis, an NYPD representative, declined to respond to Times reporters' questions about Garner's death and the police response, citing "the ongoing federal and departmental reviews into this matter."
In the only completed inquiry to date, a grand jury in Staten Island found Pantaleo did not commit a crime when he used a chokehold. However, the technique is banned by police rules.
© Copyright IBTimes 2023. All rights reserved.