One Year On, Crimea Celebrates Russian Annexation, But Many Crimeans Are Unhappy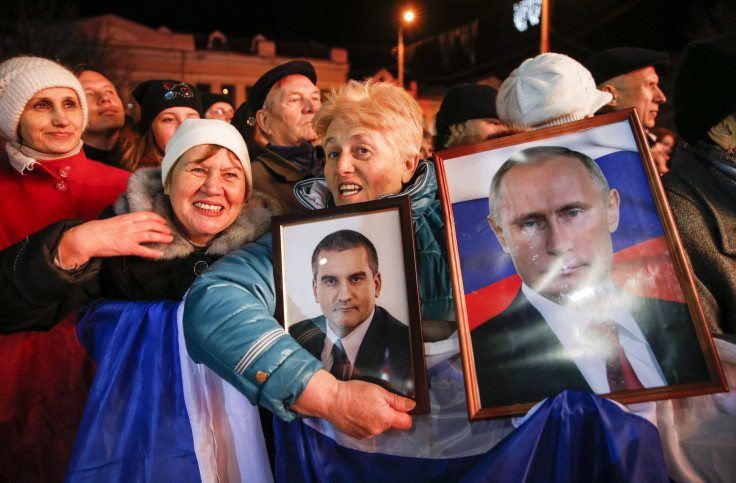 SIMFEROPOL, Crimea -- On this breezy Monday morning, around 200 people gathered on the square outside the local Parliament, here in Crimea's capital. Ripples of applause rang out from the crowd as local musicians proclaimed their devotion to Russia from a stage overlooking a wave of blue, red and white flags.
"I have tears watching this. We've finally returned home after all these years. Thanks to Russia, thanks to Putin," 78-year-old Valentina Reshetnikova said, boasting of her raised pension under Russian rule. Reshetnikova broke off to cheer a group of the local self-defense forces, who had just finished singing about how they drove Ukrainian "fascists" from the Crimean Peninsula last February.
The atmosphere marked a stark contrast from the scene outside the same building just over a year ago, when the ouster of Ukrainian President Viktor Yanukovych in Kiev on Feb. 23, 2014, and secessionist talk by Crimea's Parliament sparked clashes between supporters of Ukraine's EuroMaidan movement and local pro-Russian groups. The events marked the start of two tumultuous weeks that saw unmarked military contingents from Moscow take over the peninsula and culminated with its residents voting for union with Russia in a hastily organized, and internationally condemned, referendum.
Two days after Moscow announced the results -- 97 percent for union with Russia -- Russian President Vladimir Putin hosted leaders of Crimea's new Parliament in the Kremlin to sign into force the peninsula's annexation by Russia.
Euphoria Lost
The festivities in Simferopol on Monday opened a week of events held to celebrate the anniversary of that vote. But 12 months have passed, and the sense of euphoria that filled the streets in early 2014 has largely disappeared.
A marked increase in the cost of living along with booming property and rent prices have compounded a 30 percent drop in visitors, a blow to a region heavily reliant on tourism. International sanctions against Russia have cut transport connections to Crimea from anywhere but Moscow and blocked Visa and MasterCard transactions, stalling efforts to replace the financial vacuum left behind by departing Ukrainian banks.
Supporters of the return to Russia praise what is popularly called the Crimean Spring for reversing what they see as the historical injustice of 1954, when then-Soviet leader Nikita Krushchev transferred the peninsula to Ukraine in what was then a purely administrative adjustment of the USSR's internal borders. Beyond such symbolism, however, few of Crimea's residents have cause to cheer.
"Nothing has changed since the referendum. The roads are still bad, and all those who were in power under Yanukovych are still in power today," said Pavel Melnik, a native Ukrainian who moved to Crimea as a child.
Like most of Crimea's inhabitants, Melnik, who dismisses last year's referendum as a farce, is now a dual citizen. Last summer he reluctantly applied for a Russian passport, knowing that without it he'd neither be able to work legally in Crimea nor achieve the aim of selling his apartment on Simferopol's outskirts and moving to the inner city. Several months later he is still unable to find a buyer undeterred by rocketing mortgage rates.
While Melnik's predicament is not unusual, not all in Crimea's capital share his dismay. Katya Pokrovsky and her husband Dmitry both voted to join Russia last March, and despite being affected by the transition period they remain confident that the union offers brighter prospects.
"Kiev abandoned Crimea's economy over the past 20 years. At the same time a creeping Ukrainization took place. Everything shifted to Ukrainian, from the dubbing at cinemas to the instructions on medicine," Dmitry said.
Katya admitted she and Dmitry have been hit by Russia's economic crisis. Attendance for the photography courses they run in Simferopol has dropped by 25 percent, and rent for the workshop space has risen by half.
"Life has become harder, but we adapt. If one shop or service closes we find an alternative. We knew there would be no change under Ukraine, but at least with Russia there's a chance. We voted only for that chance," she said.
On Monday evening, the festivities in Simferopol continued with a major concert on the city's Lenin Square, attended by Crimea's Prime Minister Sergey Aksyonov and other government representatives. A much-hoped-for visit from Putin did not materialize -- although the Russian leader appeared on the nation's TV screens the night before, hinting for the first time that Crimea's annexation was a pre-planned operation.
Tatars Targeted
As the celebrations lasted into the early hours and crowds of tipsy locals wandered the streets of the city center in anticipation of a late-night fireworks display, 25-year-old Emir sat in a small underground café smoking shisha with his friend Mustafa.
A Crimean Tatar, Emir is a member of an ethnic group that was deported en masse from the peninsula in 1944 under Stalin's punitive transfer policy. Having returned in large numbers since the Soviet Union's collapse, Crimean Tatars now comprise around 12 percent of the peninsula's inhabitants. Since the events of last March, their bitter opposition to the return of Russian rule has made them the primary target of the authorities' clampdown on dissent. Neither Emir nor Mustafa wanted his last name published.
"When Crimea was part of Ukraine, antipathy toward Crimean Tatars was always below the surface. Since Russia's annexation those latent feelings are no longer being suppressed," Emir said.
Emir was born in deportation in Uzbekistan and later moved to Simferopol with his parents. A fluent English speaker, he worked for the Parliamentary Development Program run by USAID, the U.S. government's aid agency, until its closure in Crimea in 2013. Today he is a business consultant at RNKB, a bank sanctioned by the West last August and one of the only banks functioning in Crimea today.
On May 3, Emir was among some 3,000 Crimean Tatars who drove to the peninsula's border with Ukraine to meet Mustafa Dzhemilev, leader of the Crimean Tatar National Movement, who was returning from Kiev by car after previously being refused entry when he landed at Simferopol's airport.
"We crossed into Ukraine to join Dzhemilev. When we arrived back at the border we were met with hundreds of Russian armed guards. They only allowed us back in after a lot of negotiation," he said. Dzhemilev stayed behind in Ukraine, slapped with a five-year ban from entering Crimea.
The plight of the Crimean Tatars has been a much-documented issue since before Russia's annexation. News reports warning against the dangers of their return accompanied their repatriation during the Soviet perestroika reform period and throughout the 1990s. Most Crimean Tatars interviewed in Simferopol spoke in hushed tones, wary of being overheard and fearing being reported to the authorities.
"Over the past year Ukrainians and Crimean Tatars here have grown closer. But I don't miss Ukraine. What I miss is being able to speak freely," Emir said.
The morning after the celebrations an unexpected blizzard blanketed the streets in Simferopol's center, disguising any signs of the previous night's festivities under a thick layer of snow. The city's residents returned to work, more concerned about earning a living than resuming the festivities on the public holiday announced the following day.
"I don't get it. One year ago these people would paint blue and yellow stripes on their faces and go and watch football (soccer)," Melnik said, referring to Ukraine's national colors, as he sat in a café overlooking the central Karl Marx Street. "So much of what they have has been made possible by Ukraine. I sometimes ask people, 'If you didn't like Ukraine before, why didn't you go and protest?'"
FOR FREE to continue reading
✔️ Unlock the full content of International Business Times UK for free
offer available for a limited time only
✔️ Easily manage your Newsletters subscriptions and save your favourite articles
✔️ No payment method required
Already have an account?
Log in
© Copyright IBTimes 2023. All rights reserved.