Oregon State University, Former Coach Mike Riley Sued For 1999 Sexual Assault Allegations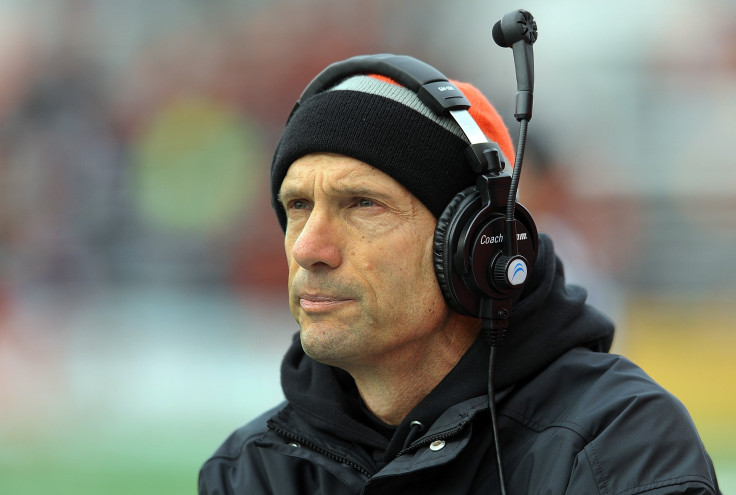 A former student of Oregon State University (OSU) filed a federal Title IX lawsuit against the institution and former football coach Mike Riley for rape allegations dating back to October 1999, the Associated Press (AP) reported Wednesday.
In the $7.5-million lawsuit, the woman holds the university and Riley responsible for failing to take action against what she claims was a sexually violent culture in the football team that led to her being sexually assaulted.
The lawsuit, filed Monday in Eugene's U.S. District Court, stated that the woman -- a freshman at the school in 1999 -- was raped after she attended a party near the Corvallis campus and was approached by a man visiting from Portland, who gave her a beer, AP reported. She became dizzy and reportedly believed she was drugged. The man then took her to an apartment when some OSU football players allegedly lived.
"When she first regained consciousness, she was in a bedroom with OSU football jerseys and team pictures on the walls," the lawsuit reportedly states. "She was being sexually assaulted by the young man who had offered her the beer."
The woman informed a sexual assault counselor at the university about the rape; however, she was discouraged from contacting police, according to the lawsuit. The counselor allegedly said "a rape kit was worse than the assault itself," and "these things are hard to prove." The woman consequently dropped out of school.
The plaintiff alleged that in 1998 another woman was raped by four men in the same apartment. Riley led the university football team then too. The complainant sued the university and Riley after the Oregonian newspaper ran a story on the alleged 1998 rape.
"[She] did not discover until the winter of 2014 and early 2015 that OSU had actual knowledge of the risk of rape by student athletes and thus that it was foreseeable that female students would be raped in the future," the lawsuit stated, according to reports.
However, Riley, who now heads the football team at the University of Nebraska, denied the allegations in a statement to the Omaha World Herald newspaper.
"I cannot comment on any matter in the legal process. However, I am committed to a harassment-free culture in our football program and I am continually seeking ways to expand our student education program. Sexual assault is a horrendous crime and has no place in our society," Riley said.
Steve Clark, a university spokesman, also commented on the allegations. "We're not responsible for her very unfortunate sexual assault," he told the Oregonian.
© Copyright IBTimes 2023. All rights reserved.
FOLLOW MORE IBT NEWS ON THE BELOW CHANNELS