Ottawa Shooting: FBI Urges Vigilance On US Border With Canada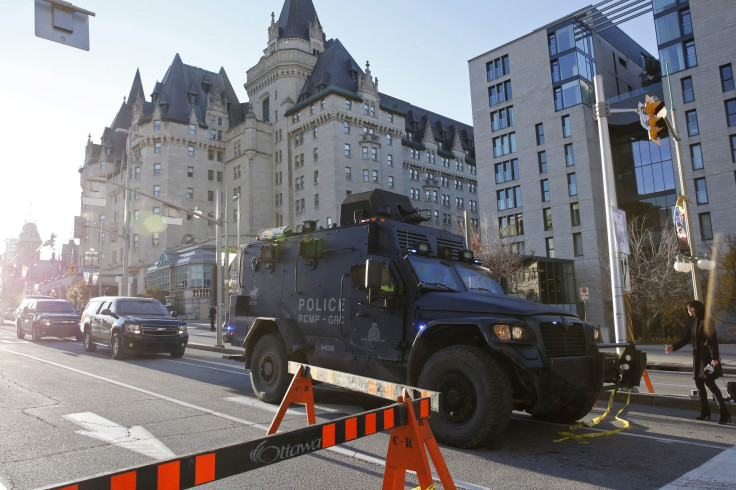 The Federal Bureau of Investigation warned officials stationed on the 5,525-mile border between the United States and Canada to be on high alert for possible terrorist infiltration Wednesday. The warning came after two attacks in Canada over the past three days. The most recent attack on Wednesday took place just over an hour from the U.S. border.
Canada and the U.S. share the world's largest international border; an estimated 300,000 people cross it every day. There are at least 120 road crossings between the two countries that give access into Alaska, Washington, Idaho, Montana, North Dakota, Minnesota, Michigan, New York, Vermont, New Hampshire and Maine. Several of those crossings, like one between Alberta and Montana, are unstaffed or remotely staffed.
Aside from multiple entry points accessible by train, bus or car, eight Canadian airports offer pre-clearance for travelers entering the U.S. This allows travelers leaving from airports in Montreal, Ottawa, Toronto and other cities to clear customs in Canada before boarding a plane. They are treated as domestic travelers once in the U.S.
Canada raised its terrorist attack threat level from "low" to "medium" on Tuesday, citing concern over an increase in foreign recruitment by feared terrorist groups like the Islamic State group (ISIS) and al Qaeda. The Canadian Security Intelligence Service, or CSIS, has recently estimated that between 130 and 145 Canadians left Canada to join battles in countries like Syria and Iraq.
Officials in both the U.S. and Canada fear that foreign fighters could return home and criss-cross the North American borders.
"The biggest issue that we face right now: The ability of terrorists and terrorist organizations around the world to reach out to radicalize individuals toward violence and to recruit individuals to become terrorists or join terrorist organizations," Paul Abbate, Detroit's FBI director told Detroit Local 4 News.
The FBI said tightening the borders is not a response to a specific threat to the U.S., but a precaution in light of recent events in Canada.
"The FBI has reminded our field offices and government partners to remain vigilant in light of recent calls for attacks against government personnel by terrorist groups and like-minded individuals," the FBI statement said. "We stand ready to assist our Canadian partners as they deal with the ongoing situation in their capital."
Wednesday, Canadian Michael Zehaf-Bibeau allegedly opened fire at the National War Memorial in the country's capital of Ottawa, killing a Canadian soldier and wounding several others.
Canadian Prime Minister Stephen Harper reassured Canadians that while Canada may not be immune to attacks, it "will never be intimidated."
© Copyright IBTimes 2023. All rights reserved.