Ottawa Shootings Update: Gunman Was Planning To Leave For Syria; Quebec Soldiers Urged Not To Wear Uniforms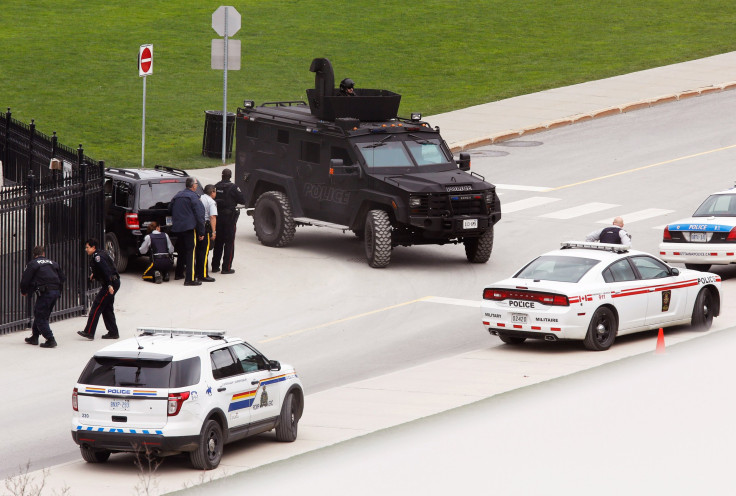 Canadian soldiers in Quebec were being urged not to wear their uniforms while off-duty in public as "precautions" following Wednesday's shootings in Ottawa that killed a 24-year-old military reservist who was on duty at the National War Memorial. The gunman, 32-year-old Canadian citizen Michael Zehaf-Bibeau, had been in Ottawa since Oct. 2 resolving a passport issue and "was hoping to leave for Syria," a head police official told ABC news Thursday.
Since the summer, hundreds of Westerners have left their homes to join the Islamic State as foreign fighters in Syria. These men and women are driven to join the extremist group by the need to "belong to something special," John Horgan, a psychologist and professor at the University of Massachusetts Lowell's Center for Terrorism and Security Studies, told International Business Times. Police told ABC news Zehaf-Bibeau had been out of touch with his family and was homeless. The Canadian man was asked to leave a mosque last year due to his angry behavior. Zehaf-Bibeau's mother told the Associated Press she is appalled by his actions. "I am mad at our son, I don't understand and part of me wants to hate him at this time," Susan Bibeau wrote in a statement on behalf of herself and her husband, Bulgasem Zehaf.
Maj.-Gen. Christopher Coates told the Toronto Star on Wednesday that Canadian Forces bases were asked to take "appropriate" precautionary measures to ensure the safety of personnel, equipment and buildings. In a statement on Wednesday, Chief of Defence Staff Gen. Tom Lawson said the shootings are still being investigated, and Canadian Forces will "continue to collaborate" with the government to determine whether "additional security measures" should be enforced at armed forces sites in Ottawa and across the country.
The instruction advising soldiers not to wear uniforms off-duty applies to all military personnel across Quebec, but it's unclear whether it also applies to military members in Canada, CFB Valcartier public affairs office Capt. Marie-France Poulin told CBC News. The gunman, 32-year-old Michael Zehaf-Bibeau, stormed the halls of the Centre Block at Parliament Hill on Wednesday, after he shot and wounded Cpl. Nathan Cirillo, who was on honorary guard at the National War Memorial. Cirillo died a short time after, despite efforts to save him. Zehaf-Bibeau exchanged shots with Canadian forces inside the parliament building, during which he unloaded at least 30 shots but did not hit anyone. Sergeant-at-Arms Kevin Vickers ultimately shot and killed the gunman during the shootout.
"It appears there was just one shooter, and that shooter is dead," Ottawa Mayor Jim Watson told CNN. "But it has been a traumatic experience, obviously, for not only our city but the country."
Parliament resumed work Thursday in a show of solidarity to prove that the shooting would not "halt Canadian democracy," as MP Brent Rathgeber put it. Both Cirillo and Vickers were honored Thursday morning by parliament members. Vickers received a standing ovation from parliament as he led the procession at the opening of the House of Commons in Ottawa.
© Copyright IBTimes 2022. All rights reserved.
FOLLOW MORE IBT NEWS ON THE BELOW CHANNELS