Canada Parliament Shooting Ottawa: Suspected Gunman Michael Zehaf-Bibeau Acted Alone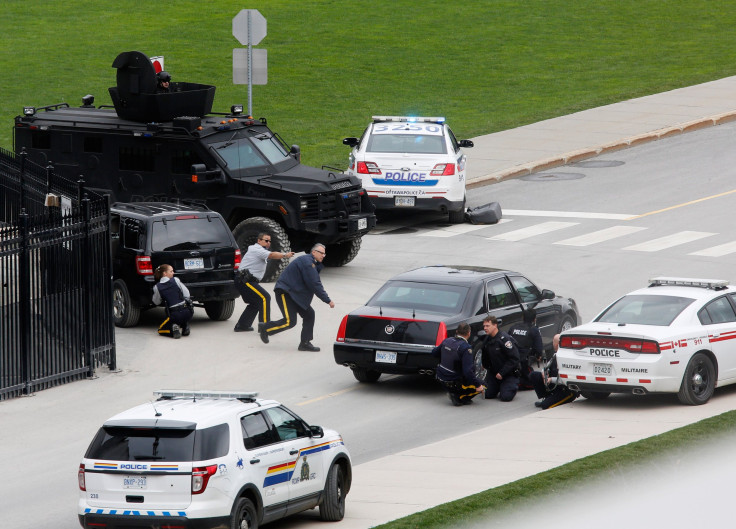 Authorities have confirmed that the shooter who gunned down a soldier at a war memorial in Canada's capital on Wednesday was the same shooter who opened fire in the country's parliament building just moments later. In the confusion of the shooting in Ottawa, police rushed to determine how many gunmen were involved, and it was unclear at first whether the man authorities had identified as the shooter, 32-year-old Michael Zehaf-Bibeau, had acted alone.
"It appears there was just one shooter, and that shooter is dead," Ottawa Mayor Jim Watson told CNN. "But it has been a traumatic experience, obviously, for not only our city but the country." Investigators have not yet said what the shooter's possible motive may have been, although reports have emerged that Zehaf-Bibeau was a convert to Islam and was considered a "high-risk traveler," according to the BBC. His passport had been confiscated to keep him from going abroad. The suspect, who grew up in Quebec, had a history of run-ins with the law, including credit card fraud and drug possession, the BBC noted. Canadian officials have said the attacks may have been an act of terrorism.
"In the days to come, we will learn more about the terrorist and any accomplices he may have had, but this week's events are a grim reminder that Canada is not immune to the types of terrorist attacks we have seen elsewhere in the world," Canadian Prime Minister Stephen Harper said in a televised address Wednesday. "Let there be no misunderstanding: We will not be intimidated. Canada will never be intimidated."
The National War Memorial in Ottawa is just a few hundred feet away from Parliament Hill. Authorities reported at least 30 shots fired inside the library there. The gunman was shot and killed inside Parliament by Ottawa police. The federal government was on lockdown Wednesday.
© Copyright IBTimes 2022. All rights reserved.
FOLLOW MORE IBT NEWS ON THE BELOW CHANNELS