Pacquiao vs. Marquez COUNTDOWN: Less Than 20 Days Until the Much-Anticipated Fight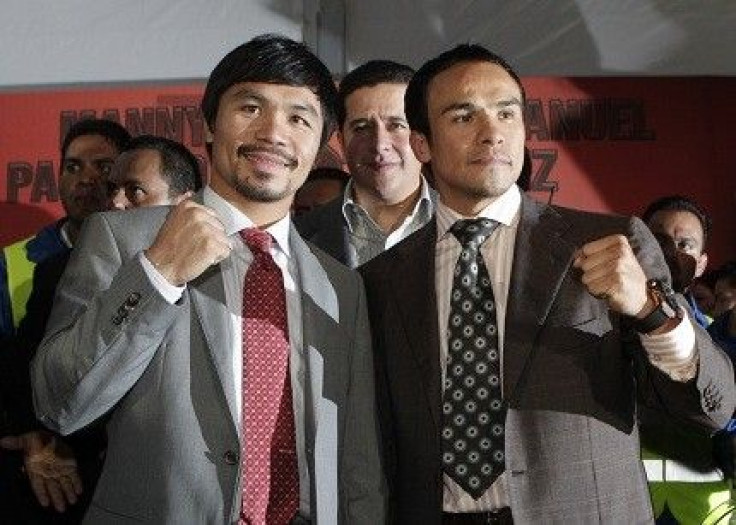 Perhaps the most anticipated bout of the year is less than 20 days away, as Manny Pacquiao (53-3-2) and Juan Manuel Marquez, (53-5-1) prepare to meet at the MGM Grand Arena in Las Vegas, Nevada, on Nov. 12, 2011, for the third time.
The first two times these boxers fought it was an exciting and intense bout, and there was no clear winner. Even though neither boxer has a personal grudge against the other, both approach this fight as unfinished business.
This time the WBO welterweight title will be on the line, as well as a great deal of respect. The first fight ended in a draw, and the second ended in a split decision victory for Pacquiao.
It will be more than three and a half years since they lost fought, and styles and attitudes have change in that time, but the resentment for the past decisions have not.
Based on several reports, Pacquiao has taken his training regimen to another level. His trainer, Freddie Roach, was recently warned by Top Rank CEO Bob Arum to slow Pacquiao down.
The 32-year-old prize fighter has become so addicted to training that there is a fear that Pacquiao will be burned out by the start of the fight. Roach has stated that his boxer is ahead of schedule because of his early start to training and his intense workouts under conditioning coach Alex Ariza.
I see a different Manny Pacquiao, said Roach, on HBO's 24/7.
Roach has projected that Pacquiao will knock out Marquez, and the normally reserved trainer rarely exaggerates a fighter's progress, so it means he is especially optimistic about the Filipino icon's chances.
I don't think he's going to let up on Marquez like he let up on his last few opponents, said Roach on 8countnews.com. I think he's going to keep Marquez on the floor this time.
Pacquiao wants something that has eluded him in his last two fights with Marquez: an overwhelming victory. Perhaps the best boxer of his generation, there is a sense that Marquez is a dark cloud hanging over his legacy.
As for Marquez, he sees this fight as personal, as well. At age 38, Marquez remains an elite boxer with strong will, and sharp boxing instincts.
There is a fear, however, that Marquez is not capable of being a dominant fighter at the welterweight division. He was completely outboxed by Floyd Mayweather Jr back in September 2009. Since then, Marquez has defeated his last three opponents but none have been close to the caliber of Pacquiao or Mayweather.
The Mexican fighter knows what he's up against.
The boxing community sees Manny Pacquiao as the best pound-for-pound fighter, said Marquez. I think that is why I want this fight -- why I have always wanted this fight.
He knows he hasn't beaten me decisively, and it's like a thorn in my side that I want to pull out, because I want to do my job, and I want to make it clear who really won.
This is clearly a motivated boxer. It will interesting to see how Marquez does after mainly fighting as a lightweight.
Pacquiao is favored in the fight, but Marquez has been in the mountains of Mexico, and appears to be training harder than ever, with 5 a.m wake up calls and fierce workouts.
I'm expecting he's trained as hard as he can, Pacquiao told the Los Angeles Times. I'll never underestimate this fight. He needs this fight badly. That's why I'm doing what I'm doing. On Nov. 12, you'll see a high level of boxing in that ring.
I have to leave it all in the ring, said Marquez. I have to prove who won those two fights.
© Copyright IBTimes 2023. All rights reserved.