Pakistan Border Bombing: ISIS, al-Qaeda Affiliated Terrorist Groups Race To Claim Responsibility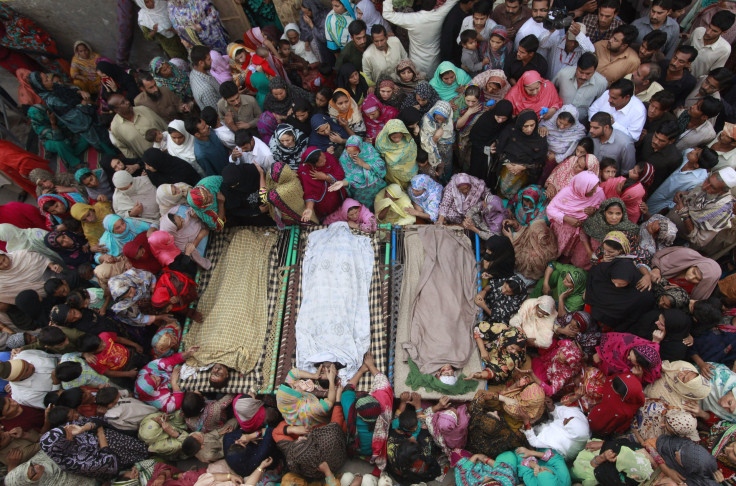 A suicide attack on the Pakistani border with India that left at least 60 people dead and more than 150 wounded is so significant that several jihadist groups are trying to claim responsibility. Multiple claims could signal internal tension from competing jihadist factions within the country. But the groups do agree on one thing: that the bombing was in revenge for the Pakistani military's crackdown on militants in North Waziristan.
In a 2013 report, the U.S. State Department said parts of Pakistan are "a safe haven for terrorist groups." Pakistan houses more than a dozen groups affiliated with the big names in terrorism like al Qaeda, the Taliban, the Haqqani network and recently the Islamic State group. Pakistani extremist groups Jamaat-ul-Ahrar and Jundallah both claimed responsibility for the attack. Both are thought to be affiliated with Pakistan's Tehrik-e-Taliban, which recently pledged allegiance to the Islamic State group, also known as ISIS.
TTP is the Pakistani branch of the Taliban. The group recently released a video declaring allegiance to ISIS and called on other groups, notably al Qaeda's branch in Syria, Jabhat al-Nusra, to do the same. The group's leader was formerly aligned with al Qaeda leader Ayman al-Zawahri (Osama bin Laden's deputy), but it appears that his allegiance has now shifted to ISIS leader Abu Bakr al-Baghdadi.
A TTP commander split from the group in August and announced the formation of splinter group, Jamaat-ul-Ahrar. The group released a statement Sunday that said their "friend Hanifullah" carried out Sunday's attack.
"This is the start of attacks. The attack is the revenge of those innocent people who have been killed by Pakistani army, particularly those killed in North Waziristan," Jamaat-ul-Ahrar spokesman Ehsanullah Ehsan said, according to the Long War Journal. "Some other groups claim the responsibility of this attack, but these claims are baseless. We will soon release the video of this attack."
Jamaat ul-Ahrar recently claimed responsibility for a joint attack on Pakistani military bases in Quetta with extremist group Islamic Movement of Uzbekistan. The latter had strong ties to al Qaeda since its formation in the early 1990s but has since realigned itself with ISIS.
"Hereby, on behalf of all members of our movement, in line with our sacred duties, I declare that we are in the same ranks with the Islamic State in this continued war between Islam and (non-Muslims)," leader Usman Gazi wrote in a statement released at the end of September.
Karachi-based extremist group Jundallah also claimed responsibility for the bombing and also said it was a revenge for the Waziristan attack. Jundallah is widely thought to be affiliated with TTP and also had ties to al Qaeda. The group has not yet announced if its allegiance shifted from al-Qaeda to ISIS when TTP decided to support the self-proclaimed ISIS caliphate.
© Copyright IBTimes 2023. All rights reserved.