Pakistan Fire: Death Toll Rising In Karachi Factory Inferno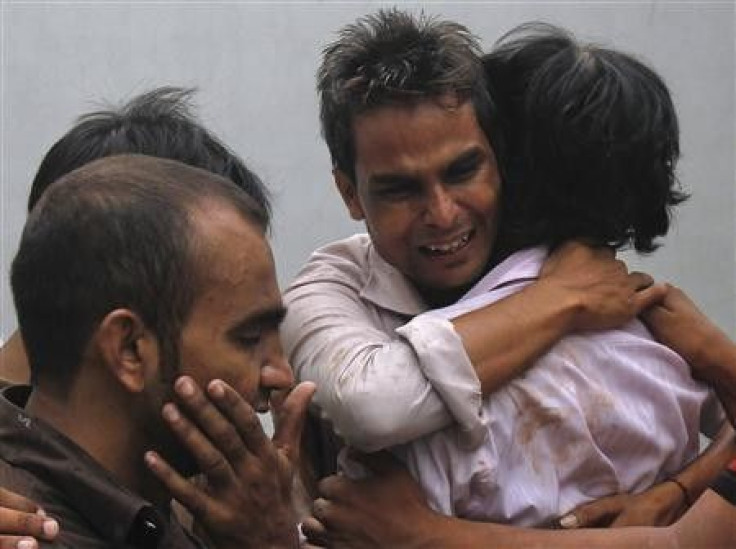 Nearly three-hundred people have died in a fire that swept through a garment factory in Karachi, Pakistan, making the inferno one of worst industrial accidents in the country's history.
"The death toll is 289. This is not final, [the] search for more bodies continues," a local administration official named Roshan Shaikh told Agence France Presse.
The death toll could indeed rise further, given that police and rescue teams still haven't reached all parts of the factory.
"We found dozens of people dead in a large room of the factory's basement. It was totally burnt and parts of it were smoldering, which we put out before shifting the bodies to hospitals," Karachi's fire chief Ehtesham Salim told AFP.
"Our firemen are searching every nook and corner of the factory despite having limited resources to cope with such a grave situation."
Salim added: "We found people who died because of suffocation caused by the highly toxic smoke. They died first and then their bodies were burned by the raging fire."
Abdus Salam, a physician at Karachi's Civil Hospital, said the dead included at least ten women.
"The bodies are badly charred," Salam told AFP.
Dozens of other workers were injured when they jumped out of windows to escape the flames.
A factory employee named Mohammad Saleem, who broke his leg that way, told the news service: "It was terrible, suddenly the entire floor filled with fire and smoke and the heat was so intense that we rushed towards the windows, broke its steel grille and glass and jumped out."
Saleem added: "I fell on the ground and it was extremely painful, I saw many people jumping out of windows and crying in pain for help."
Adding to the grief of the relatives of the victims, some of the bodies are so badly burnt that they cannot be easily identified.
"It is only possible [to identify them] through DNA tests," said Karachi official Mohammad Hussain Syed, according to BBC.
"It was a big garment factory where lots of people were working. That's why it is difficult to assess how many have come out safely and how many failed to escape and were trapped."
It is unclear what caused the fire, but Karachi officials are probing the factory's owner for possible negligence.
Rauf Siddiqui, the minister of industry minister for Sindh province, explained: "We have ordered an inquiry into how the fire erupted and why proper emergency exits were not provided at the factory so that the workers could escape."
Pakistan has a very poor record of industrial safety.
On the same day as the Karachi fire, at least 25 people died in anther blaze at a shoe factory in the city of Lahore.
Indeed, according to the Pakistan Tribune in January 2009, in the same impoverished neighborhood the garment factory is located in, a fire killed 40 people (half of them children) when flames swept through wooden houses.
Syed Shoaib Hasan, BBC correspondent in Karachi, explained the dire state of Pakistan infrastructure and the impact of political corruption on industrial safety.
"It is not just textile mills -- industries across Pakistan are increasingly prone to disaster," he said.
"Sometimes it is the collapse of poorly constructed premises -- but fires remain the main danger. In general, the problem is the same that plagues all matters of governance in Pakistan -- enforcement of the law. Industrial standards are disregarded to minimize cost as inspectors are paid to look the other way."
Hasan added that textile factories are particularly dangerous due to the lethal combination of chemical dyes and stacks of cotton often stored next to each other.
"Fire exits -- as in the case of the factory in Karachi -- exist only on paper, a factor in raising casualty figures. The city administration itself has a limited number of fire engines to serve the growing needs of an increasingly sprawling metropolis. What is generally a small and controllable mistake is made worse by years of official disregard for workers' safety. That in turn produces such tragedies -- which are then covered up, only to be repeated a few months later."
In addition, textiles and garments form an important part of Pakistan's fragile economy.
According to the country's central bank, such businesses provided 7.4 percent of GDP in 2011 and employed more than one-third (38 percent) of the manufacturing sector workforce, representing more than half (55.6 percent) of total exports.
© Copyright IBTimes 2023. All rights reserved.