Pakistan's Amazon Warrior: Samina Baig, The Young Woman Who Climbs Mountains, Literally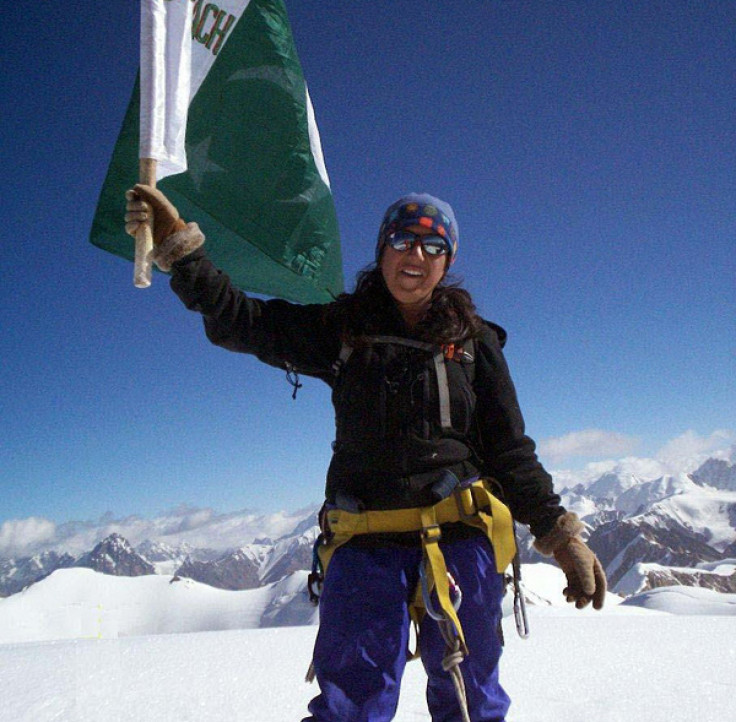 Malala Yousafzai may be the most famous young Pakistani woman in the world – but she should perhaps share that status with 21-year old Samina Khayyal Baig, a young lady who, like Malala, has shattered the stereotypes about females from her country. Samina is a mountaineer – not just any mountain climber, but a woman who has already scaled the tallest peak in the world, Mount Everest, and plans to conquer many more. Samina and her brother Mirza Ali Baig recently scaled Mount Aconcagua in Argentina, making them the first Pakistanis to have reached the summit of the highest peak in South America. The Alpine Club of Pakistan reported that the duo arrived at the top of Aconcagua – which is 6,961 meters (or 22,838 feet) high – on Dec. 13, after "battling harsh weather conditions for almost nine hours."
Samina had already achieved legendary status in Pakistan – in May of this year, she became the very first woman from her country to scale the highest mountain on earth, Mount Everest in Nepal. She is also the third Pakistani to climb Everest (regardless of gender) and, for the record, the youngest Muslim woman to do so (at the tender age of only 21). But this is only the beginning of Samina's quest – in late November she and her brother left Pakistan to embark on a grand adventure to climb seven peaks in seven continents (Argentina was the first stop on their global excursion). According to ACP, Samina and Mirza will next voyage to Antarctica in January to attempt to climb Mount Vinson (16,050 ft.), then move on to Tanzania in East Africa to scale Mount Kilimanjaro (19,341 ft.) before returning to their native Pakistan for a rest.
Subsequently, the siblings will travel to Indonesia to scurry up Puncak Jaya (16,024 ft.). By next summer, they hope to be in Alaska in the United States to climb Mount McKinley (20,322 ft.). The pair's seventh, and last, mountain will be Mount Elbrus (18,510 ft.) in the western Caucasus, the highest peak in Europe, in August 2014.
Dawn, an English-language Pakistani newspaper, reported that the expedition has been sponsored by a Pakistani philanthropist, an American citizen, and is designed to improve Pakistan's image around the world and also to encourage gender equality. "Our goal is to connect with the world to promulgate not just peace and understanding but a love for nature, the nuanced beauty of different places," Mirza, 30, said at a reception before their eight-month global expedition. "Our aim is also to promote peace and love for nature and its inhabitants. We've had enough of bombs, we should give peace a chance now." Mirza works as a mountain guide, expedition leader and trainer in the Karakoram, Himalaya and Hindu Kush ranges.
They have also received support and cooperation from the Adventure Diplomacy Group, which comprises the embassies of Argentina, Indonesia, Nepal, Russia, the U.S. and the Serena luxury hotel chain of East Africa. Muznah Umar, marketing and communications corporate manager for Serena Hotels, praised the siblings. "For Samina and Mirza Ali, it's not just about the passion of mountaineering anymore. They are embracing a path that connects all seven continents of the world," he said. Mirza and Samina are also concerned about climate change and global warming – indeed, Pakistan's famed glaciers are shrinking at an alarming rate.
The Express Tribune reported that Samina, who comes from the village of Shimshal in the Gojal valley of Hunza-Nagar District in the rugged, mountainous Gilgit-Baltistan province in extreme northern Pakistan, has challenged the image of the Pakistani woman as meek and submissive to men. According to Adventure Travel News, Samina, trained by her elder brother in the arts of mountain-climbing, began the vocation when she was only four years old. In a touching gesture, when she scaled Everest in May of this year, she was joined by Indian twin sisters Tashi and Nancy Malik at the summit – as an expression of solidarity, the young ladies planted their respective flags side-by-side on the mountaintop. To add to the symbolism, the trio reached the summit of Everest on the 60th anniversary of Sir Edmund Hilary and Tenzing Norgay's successful first ascent of the highest mountain on the globe in May 1953.
Samina fully understands her role shattering stereotypes and blazing her own path in a country where women are generally treated as second-class citizens and property and often subject to such horrors as honor killing. "I want to tell women in developing countries that they are as powerful as their male counterparts and they can play an equal role in their respective societies," Samina told Agence France-Presse. "A girl child has as equal rights as their male counterparts and our community does everything to educate female children."
Interestingly, the region where Mirza and Samina hail from is quite different from the rest of Pakistan – the residents follow a moderate brand of Shia Ismaili Islam (as followers of the Aga Khan), whereas most of the country's observes Sunni Islam. Extraordinarily, the literacy rate for women in Hunza is 100 percent. "When I came to the city for the first time, I saw a completely different world, where people are less educated, poverty is widespread and [the] female is a non-existent species compared to their male counterparts" Samina said. "But in my community, women are as important as males and they are playing an equal role in the society."
Noting that the Aga Khan Development Network has established many schools and hospitals in the Hunza region, Samina described education of the young (including females) as "a religious obligation."
© Copyright IBTimes 2023. All rights reserved.