Another Victim Of Global Warming: Pakistan's Glaciers Will Completely Melt Away By 2035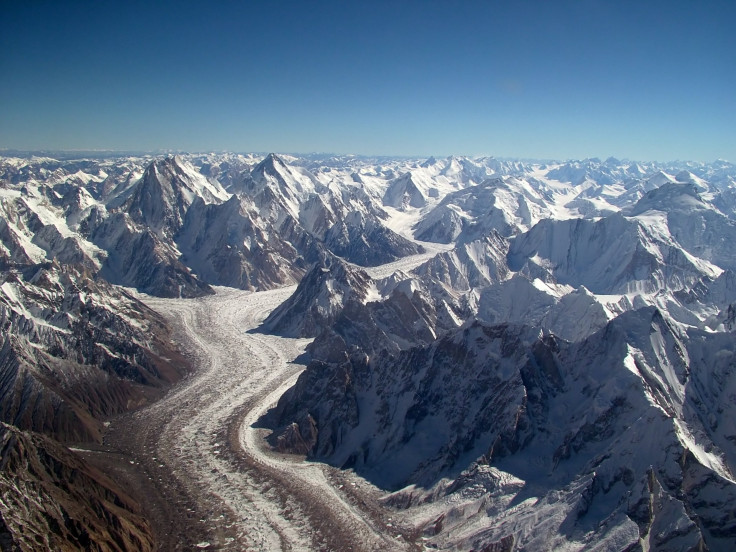 By the year 2035, just a little more than two decades away, Pakistan's famous and iconic glaciers will have disappeared due to ever-climbing temperatures around the world, warned a top government minister. According to a report in Dawn, an English-language Pakistani daily newspaper, Zahid Hamid, the federal minister for Science and Technology, delivered the sobering forecast during the International Conference on Plants, People and Climate 2013 in Islamabad on Tuesday.
Noting that average global temperatures have increased by 1 degree Centigrade over the past century, Hamid told the conference: "Pakistan is contributing roughly 0.34 percent of greenhouse gases which are responsible for global warming. However, [Pakistan] is the eighth most vulnerable country facing climate changes." Hamid pointed out that Pakistan has already witnessed the devastating effects of a hotter planet. "In 2010, floods forced 20 million people to abandon their houses," he said. "If global warming continues in the next few years, we will face [even] more natural disasters."
Raja Hassan Abbas, the Climate Change Division secretary, who also attended the conference, indicated that over the past few years, flooding has claimed nearly 1,700 lives and cost the country some $15 billion. "Twenty-three per cent people in Pakistan are at a risk of floods. The glaciers will melt in the next two to three decades and after that, we will face an acute water shortage due to which the risk of food scarcity will increase," Abbas said. "A climate change policy had been approved [by the government] in 2012 and we are trying our best to implement it."
Diminishing glaciers could spell doom for the production of food in the country. The Indus River, one of the country's most important waterways, is dependent on glacial melting for up to one-half of its flow, Reuters reported. In the event that glaciers melt, the livelihood and survival of millions of people could be gravely jeopardized. Consequently, the secretary of the Ministry for Science and Technology, Kamran Ali Qureshi, ominously warned: "We have to save our water resources because there will be no life without them."
A German scientist named Christoph Mayer, who has been studying the huge glaciers in Pakistan's Karakoram mountain range, came to similar gloomy conclusions about their future in the wake of cataclysmic climate change, reported Reuters. Conceding that the Karakoram glaciers have been viewed as an "anomaly" since they didn't appear to be shrinking in size like other glaciers around the world, Mayer is not convinced they can resist the effect of higher temperatures. "Glaciers in the Karakorams have been stable for the last 10 years, but it depends [on how] you look at the details," the glaciologist from the Bavarian Academy of Sciences and Humanities told a conference in Islamabad in September.
Pakistan Geographic noted that the country's glaciers, which are found in the northern mountain ranges of Karakoram, Himalaya and Hindukush, are the largest masses of glaciated ice found anywhere in the world, excluding the Poles. On the whole, the glaciers cover about 17,000 square kilometers in area. The famous Siachen Glacier, at 75 kilometers, is the world's second-longest glacier; its altitude ranging from 5,753 meters in the upper reaches to 3,620 meters in the lower reaches. All told, Pakistan's glaciers feed fresh water to at least 60 large and small rivers. "Without these glaciers, Pakistan would be a barren and inhospitable place to support its large population base," Pakistan Geographic stated.
A report recently issued by the World Bank warned that Pakistan faces five major risks associated with climate change: a rise in sea level, glacial melting, floods, higher than average temperature and a higher frequency of droughts.
© Copyright IBTimes 2023. All rights reserved.
FOLLOW MORE IBT NEWS ON THE BELOW CHANNELS