Pakistan's Attitude Toward Homosexuals: An Epic Ambivalence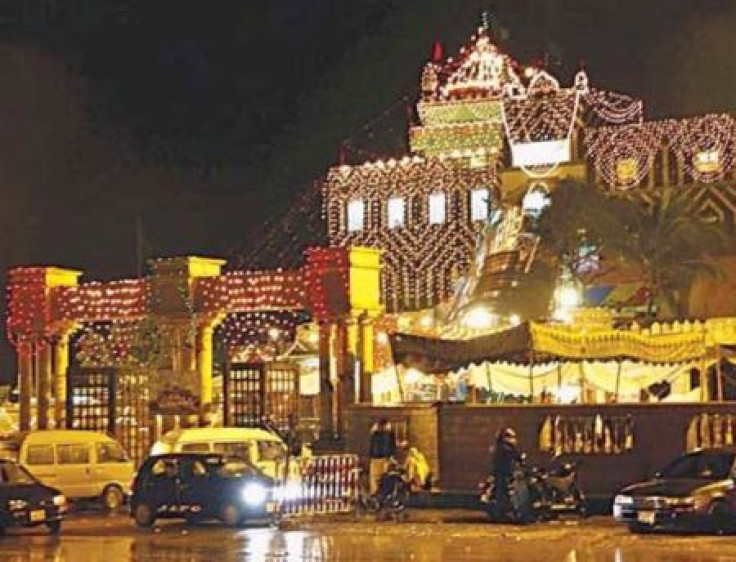 Pakistan, one of the most homophobic nations on earth, nonetheless has a highly vibrant gay subculture, particularly in the Arabian Sea metropolis of Karachi, despite the official censure of a very conservative society and harsh laws imposed by the state.
According to a report from BBC, one of the city's holiest sites, the Abdullah Shah-Ghazi shrine, in honor of a revered Sufi saint from the 8th century, actually serves as Karachi's principal "cruising ground."
The report notes that homosexuality is rife in a nation where premarital heterosexual sex (even the mixing of young men and women) is gravely frowned upon – as a consequence, young men are forced to seek sexual satisfaction from others of their own gender. (This situation is also quite familiar in other parts of South Asia and the Middle East).
"In Pakistan men are discouraged from having girlfriends and so often, their first sexual experiences will be with male friends or cousins," a man named Qasim Iqbal told BBC.
"This is often seen as a part of growing up and it can be overlooked by families - it's the idea that 'boys will be boys. Sex between men will be overlooked as long as no one feels that tradition or religion are being challenged. At the end of it all, everyone gets married to a member of the opposite sex and nothing is spoken about."
The Ghazi shrine may make the perfect locale for gays seeking anonymous sex in a very crowded, chaotic and raucous setting, where they are ironically accorded a measure of secrecy and privacy.
Thousands of devotees -- both rich and poor – come to the shrine by way of luxurious cars, buses, bicycles, rickshaws, taxis, donkey carts, or on foot and even crutches, to pay their respect to the saint, said a report from Dawn, an English-language Pakistani newspaper. And, apparently, for men to find same-sex partners without the burdens of establishing any kind of relationship in a country where such activities have to remain secret and underground.
The bizarre dual nature of Pakistani society and its attitudes towards homosexuality reflects both a conservative mindset that is endorsed by religious leaders and politicians and a laissez-faire approach to same-sex activity by the authorities. Hus, while homosexuality is essentially illegal in Pakistan, the police and courts rarely apply the harsh rules on the books against it. Technically, performing gay sex acts can lead to a prison terms of up to life.
Louise Brown, a British author who penned a book called "The Dancing Girls of Lahore," wrote of Pakistan's hypocritical sexual mores.
"Homosexuality is derided in public, but it is accepted, provided it remains a secret," she wrote. "The men involved in homosexual acts don't perceive themselves to be homosexual, and the men's families won't perceive them to be homosexual either. … Having sex with other men or boys is not associated with stigma providing a man takes a dominant role in sexual encounters. It may even reinforce a man's masculinity and status because he is sexually dominating others. It is the receptive partner who is despised and ridiculed."
The proliferation of mobile communications technology and the Internet also plays a role in shaping Pakistan's gay underground. According to a survey by the U.S.-based Pew Research Center, while 87 percent of the population of Pakistan oppose the legalization of homosexuality (one of the highest rates in the world, but normal for the Muslim world), Pakistan nonetheless leads the world in Google searches for gay sex images and porn.
"Pakistan is by volume the world leader for Google searches of the terms 'she-male sex,' 'teen anal sex,' and 'man f**king man,'" wrote Alex Park of Mother Jones.
In a 2004 essay called "The East Is Blue," Sir Salman Rushdie claimed that Internet porn plays a vital role in "repressed" nations and estimates that more than 60 percent of Internet users in Pakistan regularly visit porn sites.
"Pornography exists everywhere, of course, but when it comes into societies in which it's difficult for young men and women to get together and do what young men and women often like doing, it satisfies a more general need," Rushdie wrote. "While doing so, it sometimes becomes a kind of standard-bearer for freedom, even civilization."
Mobile technology also enables gay Pakistanis to hook up with each other, far from the disapproving eyes of the state.
"These days there are smartphone apps that use GPS to tell you how close you are to another gay person with an online profile," a 50-year-old businessman named Danyaal told the BBC. "There are thousands of gay men online in Pakistan at any one time."
But at least one blogger disputes the notion laid out by the BBC report that Karachi is some sort of "gay paradise."
A Pakistani blog called "Baaghi" denounced the BBC article "anti-Islam" and "anti-Pakistan" propaganda likely promoted by India and Israel.
"Having sex with same gender is not only prohibited in Islam but also Christianity & Judaism prohibits men having sex with men and females having sex with females, so please stop doing propaganda against Islam that Islam prohibits same sex marriages and same sex sexual relationships," the blogger angrily wrote.
Despite Baaghi's strident denials, homosexuality has long been a vital part of Pakistani culture, particularly among the Pathan peoples of the northwestern regions.
Mayank Austen Soofi, a Delhi-based author and blogger, wrote that Pakistan is "teeming with homosexuals" and that during his first visit to the country in the mid-2000s he was sometimes accosted by men seeking gay sex.
"While returning back to Lahore on the Allama Iqbal Express train, a Bahawalpur trader suddenly confessed in the midst of our [Pervez] Musharraf conversations that he liked sleeping with boys," Soofi wrote. "The ultimate was when an old Karachi Pathan, with kohl-lined eyes, escorted me to a seedy shop at Saddar Market and offered the pirated DVD of 'Brokeback Mountain' at bargain rates."
Such experiences in "Allah's own country," he noted, seemed unreal.
In the extremely conservative northwestern regions of Pakistan, along with the border of Afghanistan, homosexuality is virtually an unremarkable reality in tribal society.
"In villages throughout the country, young boys are often forcibly 'taken' by older men, starting a cycle of abuse and revenge that social activists and observers say is the common pattern of homosexual sex in Pakistan," said a report in the Boston Globe.
© Copyright IBTimes 2023. All rights reserved.