Palestine Human Rights: Palestinian Authority Accused Of Torturing Man For Criticizing Government On Social Media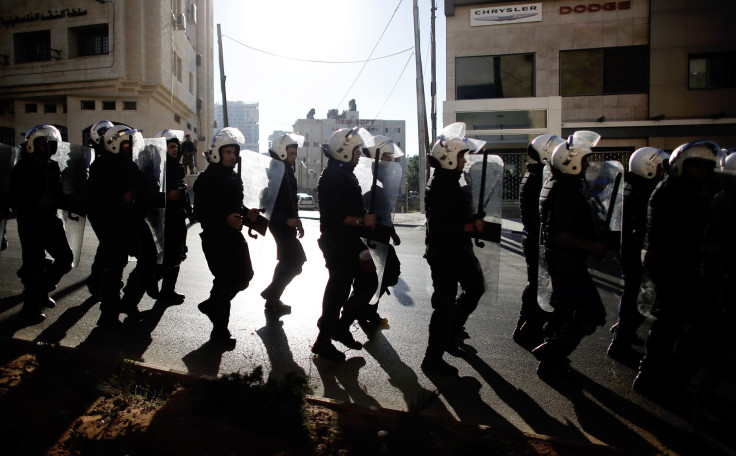 A Palestinian rights group has filed a lawsuit against the West Bank government for allegedly torturing a detainee, the Palestinian Ma'an news agency reported Thursday. The organization, the Civil Authority for the Independence of the Judiciary Body and Rule of Law, said its client was beaten with sticks and batons after being arrested by the Palestinian Authority for criticizing his local government on social media.
The rights group is requesting compensation of $1 million for damages to its client. Ahmad Bilal Abd al-Malak Al-Deek, a student at Al-Quds Open University, was detained for five days and left in jail with bruises that a specialist physician said were the result of torture.
The rights organization said the treatment of Al-Deek amounted to a gross violation of human rights and would lead Palestinians to lose trust in their leadership. The group said it hoped the lawsuit would lead other Palestinians to file claims against the Palestinian government for similar violations.
Although lawsuits against authorities alleging torture are uncommon, the Palestinian government has repeatedly been accused of torturing detained opponents. Most often those allegations accuse the government of rights violations against supporters of the rival Hamas political faction, which has been locked in a civil war with Fatah, the ruling party in the West Bank, since 2006. The Palestinian Center for Human Rights issued a report in 2014 criticizing detention conditions in both the Fatah-ruled West Bank and the Hamas-controlled Gaza Strip.
Torture is prohibited by Palestinian law, as well as international conventions that have been signed by the Palestinian government. Hamas accused the West Bank government of torturing at least 200 of its party's supporters being held in detention in July.
International rights groups have also in recent years called on the Palestinian government to end its practice of torture.
Human Rights Watch issued a report several years ago calling on Palestinian leaders to end rampant torture in their jails. "The reports of torture by Palestinian security services keep rolling in," said Joe Stork, deputy Middle East director of the New York City organization. "President [Mahmoud] Abbas and Prime Minister [Salam] Fayyad are well aware of the situation. They need to reverse this rampant impunity and make sure that those responsible are prosecuted."
© Copyright IBTimes 2023. All rights reserved.