Palestinian Unity Cabinet Meets In Gaza For 1st Time Since 2007, Claims Foreign Aid Won't Reach Hamas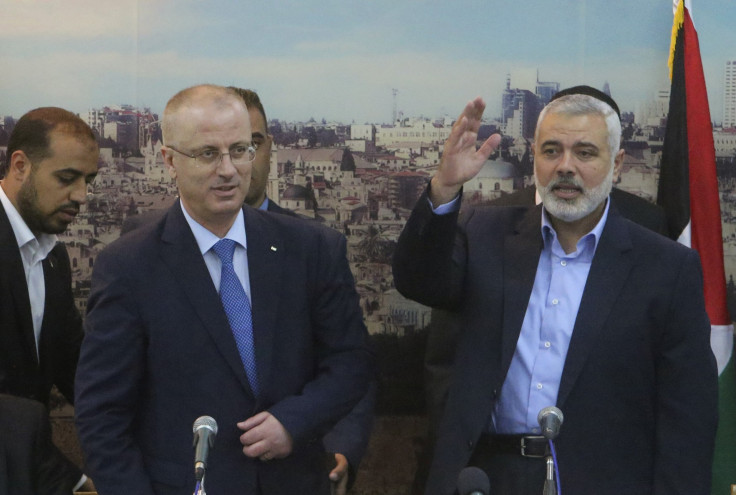 Palestinian unity government ministers held a Cabinet meeting in Gaza on Thursday for the first time since Hamas took absolute control of the region after a brief civil war with Fatah in 2007, reports said. Prime Minister Rami Hamdallah discussed the government's plan to rebuild the Gaza Strip after hostilities this summer between Hamas and Israel left much of the area in ruins.
"The years of strife between us and the rift between the Palestinian factions are behind us, and the government is embarking on the mission to restore life in the Strip to their right track," Hamdallah said in a press conference, according to Haaretz.
The unity government pledged that any funds contributed by the international community to aid in Gaza's recovery would not end up in Hamas' hands, the Associated Press reports. Palestinian President Mahmoud Abbas will meet with officials from prospective donor countries in Cairo on Sunday to ask for foreign aid to help cover the estimated $4 billion it will cost to rebuild the territory. The Cabinet met at Abbas' former residence in Gaza City.
"What we have seen today is horrible," Hamdallah said during the meeting. "I cried in Beit Hanoun when I saw how the people live and sleep. The priority is reconstruction."
Hamas continues to maintain a military presence in Gaza but allowed government ministers to tour the area and witness its devastation firsthand. Hamas, viewed by Western powers as a terrorist group, has vowed to support the unity government.
"This unity government was the result of a reconciliation agreement that Hamas worked hard for," senior Hamas official Izzat al-Rishq said. "Therefore, we have a real and serious interest in enabling it to work successfully in Gaza."
Hamas and Fatah agreed in September to allow the unity government to manage Gaza's recovery, Reuters reports. The groups formed the unity government, which consists of individuals without an allegiance to Hamas or Fatah, in May.
© Copyright IBTimes 2023. All rights reserved.
FOLLOW MORE IBT NEWS ON THE BELOW CHANNELS