Pan Am Flight 103 Victims' Relatives React to Gadhafi's Death with Mixed Emotions [VIDEO]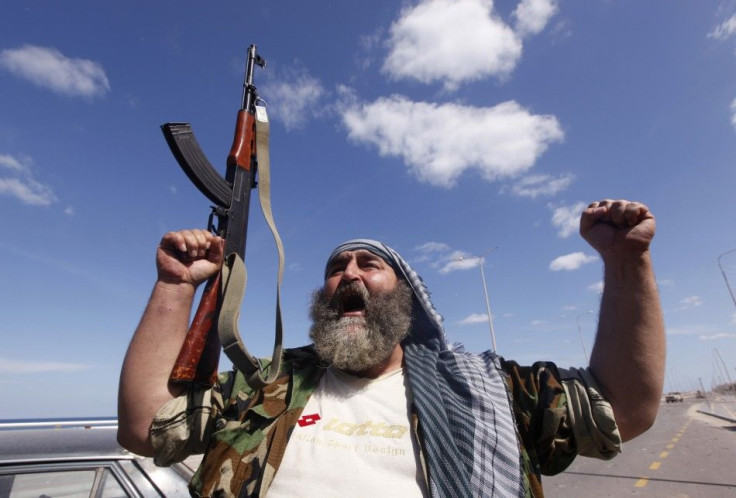 The relatives of victims of Pan Am Flight 103 said in a statement Thursday that Moammar Gadhafi's death marks a great day for Libya and freedom, but added that their fight for justice continues on a bittersweet day.
Gadhafi was killed Thursday, after rebels ended his 42-year dictatorial reign and forced him into hiding for two months. He is believed to have ordered the Dec. 21, 1988, bombing of Pan Am Flight 103 over Lockerbie, Scotland, which killed 259 onboard passengers and 11 on the ground from the Boeing 747 debris. Under mounting international pressure, Libya accepted responsibility for the Lockerbie bombing in 2003.
Relatives and close friends of the victims have endured a 23 year-long struggle for justice against Gadhafi and the Libyan government. For them, Gadhafi's death was a moment overwrought with emotion -- joy, but more anguish.
It's justice delayed, Eleanor Bright told the Boston Herald. Bright lost her husband, Nicholas, in the bombing. But it's justice.
Bright typified the bittersweet feeling of many of the victims' family members and close friends that spoke out Thursday. She told the Herald she wished Gadhafi could have been put on trial for his crimes.
It would have been a wonderful opportunity for him to face the consequences of his 40-plus years of terrorist reign over his people and to answer some of the lingering questions about the bombing, Bright said.
Thirty-five of the 259 onboard Pan Am Flight 103 victims were Syracuse University students returning from semesters abroad in London and Florence, Italy. There were also 189 Americans aboard the plane.
Susan Cohen, mother of SU student victim Theodora Cohen, reacted with a mood of celebration. She told The Post-Standard of Syracuse that she would toast to the people of Libya with a glass of champagne on Thursday.
I think it's marvelous, Cohen said. This will be the happiest day of my life since Dec. 21, 1988. I owe it all to the Libyan people.
It's just absolutely marvelous, she later added. It's a day of joy.
She blamed Gadhafi for Theodora's death and for the rest of the 35 Syracuse students, describing them as young people with futures, their lives ahead of them.
In 2003, authorities arrested two Libyans -- Abdel Basset Ali Megrahi and Lamin Khalifah Fhimah -- in connection with the bombing. Fhima was eventually acquitted for murder, but Megrahi was convicted and sentenced to prison. He served more than eight years before being released in August 2009 on compassionate grounds when he was dying of cancer. He is still alive and remains at-large in Libya.
Brian Flynn, the brother of Lockerbie victim J.P. Flynn and vice president of advocacy organization Pan Am 103, watched in jaw-dropped horror, he wrote on CNN.com Thursday. He wrote on the site that he was happier and more satisfied for the people of Libya than for justice in his brother's death.
Flynn expressed many of the same sentiments of both of the two relatives of victims above.
I have had countless e-mails and phone calls today, asking me if I'm happy, and if I feel that my brother can finally rest in peace, he wrote. At the risk of sounding like I'm never satisfied, I have to say that I am not entirely happy. Sure, some weird, throttled joy is bubbling up in me today, and I don't hold with any camp that would contend that 'Gadhafi deserved a fair trial.'
But yet I fear that with his death goes a warehouse of secrets and lies that could have been revealed in order to salve the souls of Libyan families who lost loved ones during this regime. Men and women have literally disappeared from their houses and places of work and worship, only to be buried in mass graves.
Video below from The Associated Press of an interview with Bert, who lost his brother in the Pan Am Flight 103 bombing:
© Copyright IBTimes 2023. All rights reserved.