Panetta Appears At Shangri-La Dialogue, But Harmony Was Not In The House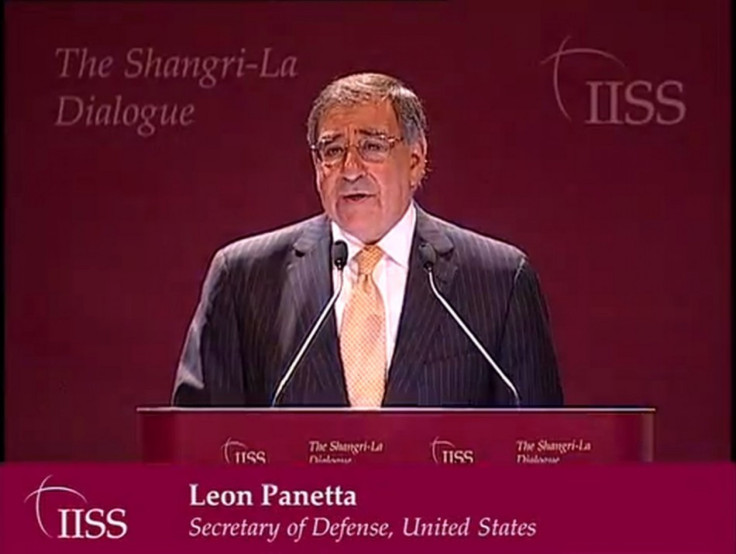 Shangri-La is an earthly paradise first described in the 1930s by British author James Hilton as a utopia of peace and happiness, originally thought to be located near the western end of the Himalayas and Western China's Xinjiang Province. One wonders if the organizers at the International Institute for Strategic Studies originally gave the name to their defense minister's conference as some kind of joke. Maritime Asia seems like it couldn't be farther away both physically and diplomatically from the mountainous nirvana described above.
For China, in particular, the current state of affairs in East Asia looks the least friendly it has in over a decade. It is embroiled in several territorial disputes with neighbors, and it now looks more certain than ever that the U.S. is eager to step back into the region in force to support China's opponents.
Over the past weekend, June 1-3, at the 2012 Shangri-La Dialogue between Asian-Pacific that defense ministries hosted in Singapore by IISS, U.S. Secretary of Defense Leon Panetta spoke about working together with China on counter-piracy, anti-trafficking, humanitarian assistance operations and, in general, about being good friends and partners in dealing with potential problems in East Asia.
Yet Panetta also said the U.S. plans to adjust its force posture so that the majority of its fleet, including major warships, will go to the Pacific by 2020 (currently, the U.S. Navy is split in half between both western and eastern oceans).
But nuclear-powered aircraft carriers aren't exactly a tool for dealing with pirates and nonstate actors. They're meant to obliterate the navies and land defenses of enemy nations, and now the U.S. wants to send more to the western Pacific. Chinese defense analysts have no doubts about who those ships are intended for.
But Secretary Panetta claims they aren't a signal for China. In an attempt to assuage concerns in Beijing, Panetta said that some view the increased emphasis by the United States on the Asia-Pacific region as some kind of challenge to China. I reject that view entirely.
Increased U.S. involvement in this region will benefit China as it advances our shared security and prosperity for the future, he added.
Nevertheless, a major redeployment of the fleet doesn't make sense against opponents with antiquated militaries like Myanmar and North Korea. Nor is it really relevant for much of the entire seaboard of East Asia. After all, the Pacific coastline of Asia is already seeded with existing U.S. allies or countries which appear eager to cooperate with the U.S. military.
In fact, what the U.S. is doing is revealing an uncertainty about the future. It is an admission that, although Washington wants to work things out with Beijing, it still likes to have the option of having a strong stick, just in case engagement fails.
Panetta is in Asia on a major trip to sell U.S. strategy on East Asia and let everyone know that the U.S. relationship with the region reaches into the past, is stable at present and will continue indefinitely into the future. On Tuesday, he arrived in Vietnam and will soon afterward be travelling to meet his counterparts in India.
Although Beijing sent a 27-member official delegation to the Singapore conference, its minister of defense, Liang Guanglie, was a no-show. That's perplexing, considering he made time three days prior to travel to Cambodia to speak with ASEAN defense ministers, including representatives from the Philippines. Last Thursday, he even hosted the defense minister of Mozambique. On Monday, he welcomed Pakistan's chief air marshal to Beijing. But over the weekend, he did not appear with his peers in Singapore, as many had hoped.
Liang's absence from a major regional forum has already prompted defense analysts and western media to begin chasing down their own different theories. Proposals range from Chinese concern about being confronted over domestic political problems to an actual scheduling error to worry about being ganged up on in an international forum.
The last idea holds particular weight, since this year's conference highlighted freedom of navigation, South China Sea disputes and new defense technologies such as drones and cyberwarfare. Those are all areas in which China has been criticized by its neighbors.
The U.S. emphasized that it did not take sides when it comes to competing territorial claims, but instead wants to push all countries in the region to abide by common norms of behavior on navigation, access to international transit routes, the rule of law, and open domains in space and cyberspace.
Following a broad speech meant to explain how the U.S. would advance the security and prosperity of the Asia-Pacific region, Panetta spent nearly his entire question-and-answer session replying to concerns about China.
But the U.S. is also fighting a battle with the budget even as it prepares for a stronger posture in Asia. Panetta mentioned that the U.S. military will be smaller, it will be leaner, but it will also be agile and flexible, quickly deployable and will employ cutting-edge technology in the future.
The diminishing flow of resources to the Defense Department is leaving many worried about whether the U.S. will really be able to back up its new Pacific stance with sustained resources. U.S. defense spending over the next year will likely top $610 billion with supplemental spending included. However, along with a $487 billion cut for the next decade, congressional disagreement on budget cutting may add another $500 billion loss to defense spending by the end of the decade.
Still, the Chinese government was swift with a response on Monday, saying that deliberately highlighting the military and security agenda, deploying more military forces and strengthening military alliances in the Asia-Pacific region are inappropriate [for the times].
China said it welcomed America's return to the Asia-Pacific but hoped that Washington would respect Chinese interests and work with others to contribute to peace and prosperity in the region. And as for American worries on the growth of Chinese military spending, Beijing's foreign ministry reiterated that its level of double-digit yearly growth in spending on defense was commensurate with China's general economic growth.
© Copyright IBTimes 2023. All rights reserved.