Papa John's Asks Potential Acquirers To Submit Offers: Sources
Papa John's International Inc, the world's third-largest pizza delivery company, has reached out to potential acquirers to ask them to submit offers, people familiar with the matter said on Wednesday.
Papa John's has come under pressure by founder John Schnatter, who owns about 30 percent of the company. He resigned as chairman in July following reports that he had used a racial slur on a media training conference call. Since then, Schnatter has been seeking ways to regain control.
Papa John's sent out information this week about an auction to sell itself to other companies and private equity firms, and expects to receive first-round bids by the end of October, the sources said. There is no certainty of a sale, and Papa John's could also explore an alternative deal, such as receiving an investment, one of the sources added.
The sources asked not to be identified because the matter was confidential. Papa John's declined to comment. Reuters first reported last month that the company had hired Bank of America Corp and Lazard Ltd to prepare the ground for a sale.
Papa John's shares ended trading on Wednesday up 8.5 percent at $50.14, giving the company a market value of close to $1.6 billion.
Separately, Schnatter on Wednesday denied a CNBC report that said he had reached out to private equity firms about making an offer for Papa John's.
"Any such report about a potential transaction involving Mr Schnatter is totally and completely false. It is unfortunate that CNBC published this false story without first contacting Mr Schnatter to obtain the true facts," a spokesman for Schnatter said in an emailed statement.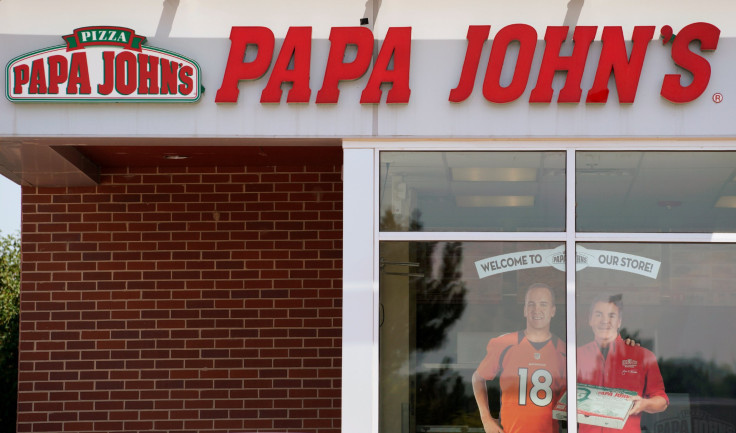 A CNBC spokesman said that the business news TV channel stood by its reporting.
Papa John's has adopted a so-called poison pill defense to discourage a hostile takeover.
Schnatter sued the pizza chain's board and chief executive at the end of August to stop what he described as "the irreparable harm" they are causing the company, according to a court filing.
Last month, Papa John's posted a second-quarter comparable sales decline of 6.1 percent and cut its sales forecast, citing fallout from the company's split with Schnatter.
Negative publicity surrounding Schnatter depressed July traffic in North America, the company said at the time, noting it was hard to predict how long and how badly that would affect sales. Papa John's has more than 5,000 locations worldwide, mostly franchised restaurants.
Papa John's Chief Executive Officer Steve Ritchie has vowed to move beyond the fight with Schnatter with a new advertising and marketing campaign, while also removing Schnatter's image from company promotions. Two franchisee associations working with the company have expressed support for its strategy.
Ritchie, previously Papa John's president, took over as CEO in January. Schnatter came under fire in November for criticizing the National Football League's leadership over national anthem protests by players.
Dealmaking in the restaurant sector is heating up. Arby's-owner Inspire Brands Inc said on Tuesday it would buy Sonic Corp for about $1.57 billion in cash, adding more than 3,600 drive-in restaurants to its portfolio that includes brands such as Buffalo Wild Wings and Rusty Taco.
Reuters
(Reporting by Harry Brumpton and Greg Roumeliotis in New York; editing by Bill Rigby, David Gregorio and Bill Berkrot)
© Copyright Thomson Reuters 2023. All rights reserved.