Paris Attacks 2015 Update: Eagles Of Death Metal Return To Bataclan Theater After ISIS Massacre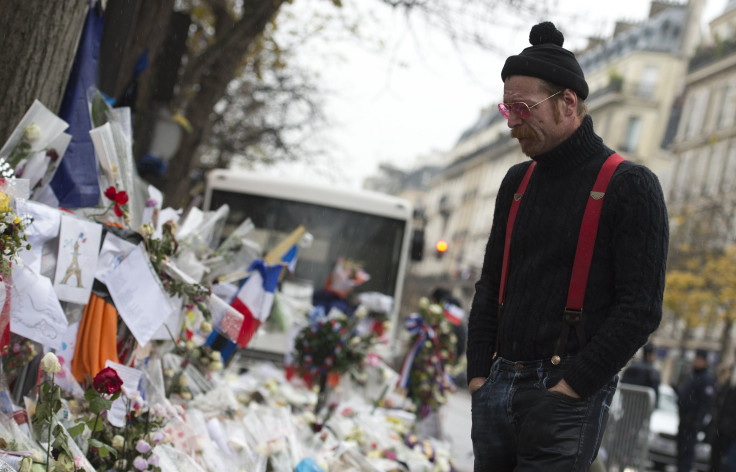 The U.S. rock band Eagles of Death Metal returned to the Bataclan theater Tuesday, where they had been playing the night of Nov. 13 when Islamic terrorists stormed the Paris concert hall, killing 90 people. The band visited the Bataclan after performing onstage with the Irish rock group U2 Monday night.
Three terrorists who had pledged allegiance to the Islamic State extremist group arrived in the back of the hall during the Eagles of Death Metal show last month. They opened fire on the crowd using semiautomatic rifles, killing 90 people and wounding dozens of others.
The Bataclan assault was part of a series of attacks that occurred across Paris that night in cafes, restaurants and a sports stadium. The attack on the Bataclan produced the most casualties of any of the sites.
The theater, which has remained closed since the attacks and hopes to reopen by 2017, has become a makeshift site for memorials, with cards for the dead and piles of flowers. The band made an emotional return to the site to pay their respects, reading the cards and hugging one another.
The band survived the attack by hiding in their dressing room until it was over, and they canceled all of their scheduled shows, issuing a statement of mourning shortly following the attacks. Frontman Jesse Hughes said in late November that the band would soon return to the stage to demonstrate their defiance in the face of a terror threat. "I don't want to spend my life trying to appease a--holes; I want to spend my life smiling with my friends and entertaining them," Hughes told Vice in an interview Nov. 21.
U2 surprised concertgoers Monday night when they invited Eagles of Death Metal to the stage of the AccorHotels Arena, just a few miles away from the Bataclan, to sing Patti Smith's "People Have the Power."
© Copyright IBTimes 2023. All rights reserved.