Paris Attacks Update: French Police Release Image Of Third Stadium Bomber, Seek His Identification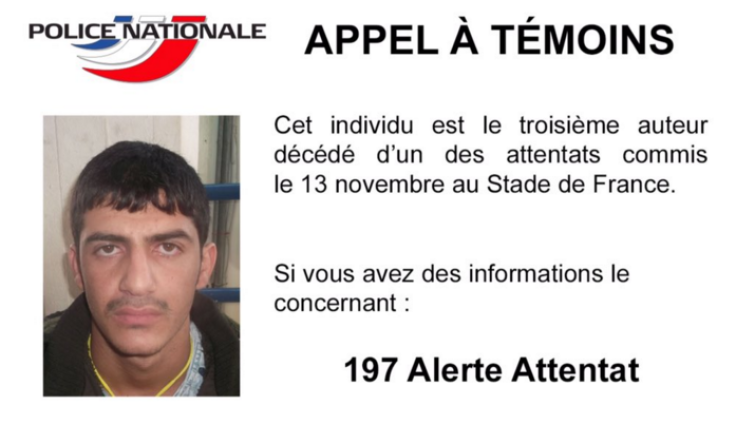 Paris police have posted this picture of a man they said was the third suicide bomber who detonated his explosive vest outside the Stade de France soccer stadium during the Paris terror attacks. The picture, posted as a tweet, urges the public to help identify the bomber's name and information.
"This individual is the third dead perpetrator of one of the attacks carried out on 13 November at the Stade de France," the tweet said. As of Sunday evening, the government did not release a name or any particular biographical detail about the attacker.
BBC News reported that it "understands that the picture of the third suicide bomber is of a man travelling under the name of M al-Mahmod." Also according to the BBC, the man "entered the Greek island of Leros on 3 October with another attacker, who was travelling under the name of Ahmad al-Mohammad."
Together, the three suicide bombers involved in Friday's attacks killed four civilians outside the French soccer stadium. The first bomb went off about 20 minutes into the start of the game, which was attended by French President François Hollande.
The first bomber detonated his vest shortly after a security guard discovered the explosives and refused his entry into the game. The bombs were loaded with TATP, peroxide-based explosive, according to French prosecutor François Molins.
One eyewitness, recounting his interaction with one of the bombers to CNN, described the bomber as "anxious, disturbed, questioning what he was doing."
Moments later, the bomber detonated his vest, and the eyewitness ran to help the victims.
"It was carnage," he said.
© Copyright IBTimes 2023. All rights reserved.