Patriots Playoff Picture: Chances New England Misses Postseason, AFC East Scenarios
The New England Patriots blew their chance to clinch a playoff spot and potentially win the AFC East in Week 16 with a loss against the Buffalo Bills. Winning the division has become much more difficult, though Bill Belichick's team remains in the playoff picture and only high unlikely scenarios exist for the Patriots to miss the postseason entirely.
The Patriots would clinch a playoff spot in Week 17 by defeating the Jacksonville Jaguars. New England is an overwhelming favorite to defeat Jacksonville, which has the NFL's worst record with two games left in the 2021 regular season.
A victory in either of their final two games would send New England to the playoffs. In the Week 18 finale, the Patriots visit the Miami Dolphins. Miami beat New England 17-16 in Week 1 and is in the thick of the playoff race.
As the No. 6 seed in the latest playoff picture, the Patriots would have the tiebreaker over the No. 7 seed Baltimore Ravens and No. 8 seed Los Angeles Chargers because of their superior conference record. New England is one game ahead of both teams in the AFC standings.
New England only has a 4% chance to miss the playoffs, according to FiveThirtyEight's projection model. ESPN's NFL Football Power Index gives the Patriots a 53.4% chance to enter the postseason as the No. 6 seed.
A wild-card berth is the most likely scenario for New England with Buffalo sitting atop the AFC East. The two rivals share the same 9-6 record, but the Bills have the better divisional record and the tiebreaker. Buffalo would win the AFC East title by winning its next two games.
The Bills host the Atlanta Falcons and New York Jets to close out the season. Buffalo is a clear favorite to win both matchups.
The Patriots started the season with a 2-4 record, looking like they would miss the playoffs for the second straight year. New England went on a seven-game winning streak, outscoring opponents 225-73 during that stretch. The streak culminated with a 14-10 victory in Buffalo and the Patriots went into their Week 14 bye as the AFC's No. 1 seed.
Consecutive losses against the Indianapolis Colts and Bills have virtually ended New England's chances of getting a first-round bye. Rookie quarterback Mac Jones has thrown two touchdown passes, four interceptions and completed just north of 50% of his attempts during the team's recent skid.
If the playoffs started this weekend, New England would visit the Cincinnati Bengals in a first-round matchup. The Kansas City Chiefs are the only AFC team that has clinched a playoff berth before Week 17.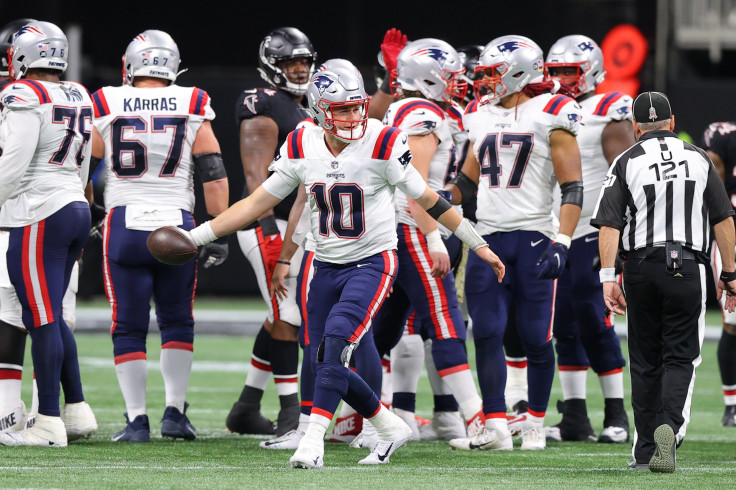 © Copyright IBTimes 2023. All rights reserved.