Paul George Rumors: Lakers, Thunder, Rockets The Only Teams In The Mix To Sign Star Free Agent?
Coming off another strong season, Paul George finds himself as one of the hot topics of the NBA offseason. The unrestricted free agent has been linked to multiple teams with increased speculation that he could be part of a "Big 3" this summer.
George, 28, played his first season with the Oklahoma City Thunder in 2017-18 after entering the league with the Indiana Pacers in 2010. Joined by All-Stars Russell Westbrook and Carmelo Anthony, George didn't see much of a dropoff from his time with the Pacers, averaging 21.9 points, 5.7 rebounds and 3.3 assists.
But the Thunder were eliminated in six games by the Utah Jazz, prompting many to believe that George may follow Kevin Durant's lead and leave Oklahoma City for the West Coast with the hopes of finally winning a ring.
George has been linked to the Los Angeles Lakers, a team with so much salary-cap space that they are capable of also luring another high-profile free agent. The consensus theory is that George will consider a move to his native Los Angeles and be joined by free agent LeBron James, and while the Lakers try to work out a package trade for disgruntled San Antonio Spurs forward Kawhi Leonard.
While the lure of Los Angeles might be great, it's certainly not a given that he will leave the Thunder. Reports have suggested that George will seriously consider staying in Oklahoma City.
Meanwhile, other teams might be in the mix, as well. The Philadelphia 76ers have a promising young roster and cap space to add George, and there has also been talk of the Sixers looking to trade for Leonard. The Houston Rockets may also pursue George in a move that could shift the balance of power away from the Golden State Warriors.
Oklahoma City Thunder
Marc Stein of the New York Times had the rumor mill blazing when he wrote that "there is a growing belief around the league that Oklahoma City has a far better chance to retain" George. Chris Haynes of ESPN also cited a source that said it wouldn't be surprising if George re-signed with Oklahoma City. The Thunder can offer George a five-year max deal and he would get to continue playing alongside Westbrook, whom George has bonded with after one season.
Los Angeles Lakers
The Lakers may be hard for George to pass up, especially if he can be assured that will be joined by James and possibly Leonard. ESPN's NBA insider Adrian Wojnarowski recently reported that Leonard has L.A. as a preferred trade destination. It's quite clear that the Lakers have had George on their radar for months, as they even faced tampering charges in 2017. The Lakers also may have $70 million in cap space. The big question is whether the Lakers can actually land some of their prized targets.
​Houston Rockets
The Rockets would immediately become a legitimate threat to unseat the Warriors with George. Texas doesn't have state income tax so George may be willing to accept a less lucrative deal so he can play with Chris Paul and James Harden. Despite limited cap space, the Rockets are expected to "be aggressive" in their pursuit of George, according to Wojnarowski.
Philadephia 76ers
By returning to the Eastern Conference, George will avoid playing the Warriors before the finals so the Sixers might be his most attractive option if he cares only about winning. Tim Bontemps of the Washington Post made the argument in May that the Sixers should more heavily pursue George than James. Philadelphia has $31 million in cap space.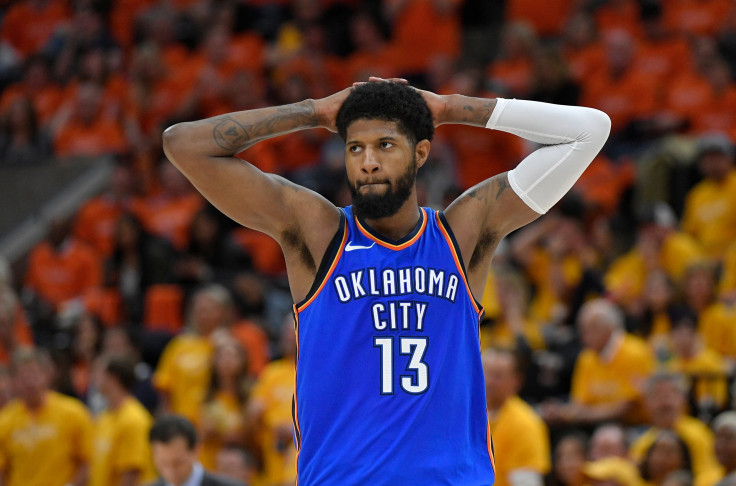 © Copyright IBTimes 2023. All rights reserved.
FOLLOW MORE IBT NEWS ON THE BELOW CHANNELS