Pelosi Steals The Thunder From PLA As China Says 'Will Bury All Enemies'
KEY POINTS
Three decades ago, Pelosi had unfurled a banner in Tiananmen Square, remembering murdered activists
Pelosi's meeting with ethnic Tibetans and their revered leader Dalai Lama had invited China's wrath
A Weibo post by the PLA saying they would "bury all enemies" went viral after news of Pelosi's visit broke
The world's largest military force, China's People's Liberation Army (PLA), celebrated its 95th anniversary Monday, marked by a show of military might and gusto. However, the muscle flexing and rhetoric by the 2-million-strong PLA, which Beijing had hoped to be a big public relations event, was effectively upstaged by House Speaker Nancy Pelosi.
The crafty U.S. politician announced Tuesday her intent to visit Taiwan, which China considers a breakaway province, despite dire warnings from Beijing.
Amid China swearing to "defend the motherland to the death" and repeated warnings that "we stand ready to fight," Pelosi, always known for her penchant for drama, and with a long history of getting under the skin of Beijing, has once again one-upped the communist party bosses.
"The possibility of Pelosi visiting Taiwan shows the stand-off between Beijing and Washington has escalated, which demands that the PLA push forward with military reforms to become a real modern fighting force," Song Zhongping, a former PLA instructor, was quoted by South China Morning Post.
But, this isn't the first time Pelosi has stolen the thunder from the PLA and Communist Party. The Democrat has a long history of pushing back against China, from when she unfurled a banner in Beijing's Tiananmen Square dedicated to the pro-democracy student activists massacred there 31 years ago. She had then evaded the eyes of her official escorts and along with two other Congressmen went to the city square without the permission of her Chinese hosts. China's Foreign Ministry later denounced the incident as a "premeditated farce."
She has since continued to criticize China for its alleged human rights violations, including recently when she called the Tiananmen demonstrations "one of the greatest acts of political courage" and slammed the Communist Party's "oppressive regime."
Besides, Pelosi's meeting with ethnic Tibetans and their revered leader Dalai Lama had invited China's wrath. In March, Pelosi issued a statement on the 63rd anniversary of Tibetan Uprising Day, urging the U.S. to speak against human rights abuses in China.
She also has met with Hong Kong pro-democracy protesters such as Joshua Wong and ethnic Uyghurs and had recently backed Biden's diplomatic boycott of this year's Winter Games in Beijing.
And, by visiting Taiwan now, Pelosi looks forward to keeping her promise to show support for Taiwan. "For Pelosi, this trip could be seen as capping off a long record as a China hawk and human rights advocate while she is still speaker –- a position she may have to relinquish following November's midterm legislative elections," Amanda Hsiao, senior analyst at the International Crisis Group, told Bloomberg.
As expected, China is furious about her impending visit to Taiwan, which would make her the highest-ranking elected U.S. official to visit Taiwan in 25 years. Beijing has expressed its disdain for Pelosi earlier labelling her "full of lies and disinformation."
Shortly after the news broke out about Pelosi pushing through with the Taiwan visit, the Chinese Foreign Ministry and the PLA urged Washington to honor U.S. President Joe Biden's promise to not support "Taiwan independence."
Almost immediately, a post appeared on PLA's Eastern Theatre Command's Weibo social media account. "We stand ready to fight. We will bury all enemies," the post read. The Command also posted a video, along with the message "We are fully prepared for any eventuality. Fight upon order, bury every intruder, move toward joint and successful operation!" A report by Chinese mouthpiece Global Times claimed the video immediately went viral, and many netizens see it as a clear warning to Pelosi.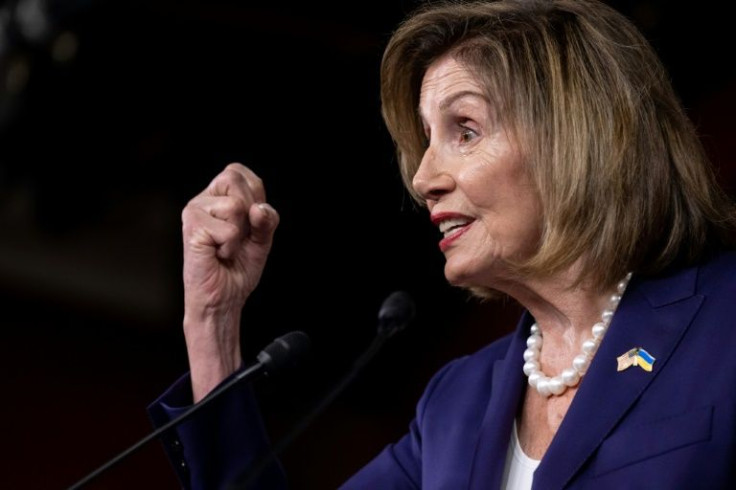 © Copyright IBTimes 2022. All rights reserved.
FOLLOW MORE IBT NEWS ON THE BELOW CHANNELS