Pelosi Trip A Pearl Harbor Moment For China: Analyst Says Beijing Avoided 'Ukraine-Like Trap'
KEY POINTS
Xie said Pelosi's visit completely shattered the trust between China and U.S.
The analyst said the time is right for China to start its reunification process
He praised Beijing for its current response and for avoiding a "Ukraine-like trap"
House Speaker Nancy Pelosi did a "Pearl Harbor" on the Chinese with her visit to Taiwan, a Chinese analyst said, adding that it offered Beijing something similar to the WW2 moment that triggered America's massive military response against Axis powers.
Xie Maosong, a senior fellow at the National Strategy Institute of Tsinghua University and a China Forum expert, said though the U.S. had been divided over Japan, a major buyer of America's steel, copper and oil, Pearl Harbor unified them.
"Similarly, Beijing's response to Pelosi's Taiwan visit has the backing of all Chinese people, while some want more drastic action," Xie wrote in an opinion piece that appeared in South China Morning Post.
In a scathing attack, Xie said Beijing did everything to warn the U.S. while keeping a lid on its strong nationalistic sentiments but "they all fell on deaf ears." Claiming that Pelosi's visit "completely shattered" the trust between both superpowers, Xie accused Washington of "changing the status quo" of Taiwan.
"The sobering lesson for all Chinese people from this is that we should not have any illusions about American intentions as the U.S. has backtracked on its historical promises on Taiwan," he added.
The analyst called the drills an answer to the sentiments of the Chinese people, many of whom feel angry and even humiliated by the U.S. actions.
"Pelosi's Taiwan visit is just one major sign that Washington has abandoned all previous consensus on Taiwan with Beijing. Less noticed is how the current U.S. president, Joe Biden, has not consulted Henry Kissinger – who helped set up Richard Nixon's visit to China 50 years ago – about Sino-US relations," he said.
Xie said "the time is right for China to legitimately start its anti-secession and reunification process." He also rubbished claims that China was not yet ready to invade Taiwan. "But looking back on modern Chinese history, was China ready to take on the U.S. in the Korean war? Was the PLA ever ready for any of its major military campaigns since the founding of new China?" said Xie.
He added that China wouldn't proceed without a proper strategy and explained how Chinese blockades could choke Taiwanese trade.
Xie also praised Beijing for its current response and for avoiding "Pelosi's plot to make Taiwan a Ukraine-like trap for China" by trying to drag Beijing into a protracted war when it is less ready."
"Instead, Beijing chose to take steady steps forward to gain de facto control over Taiwan by nullifying the median line in the Taiwan Strait and Taiwan's air defense identification zone," he wrote, adding that Beijing has always played a patient game and waits for the opponent's move before striking back.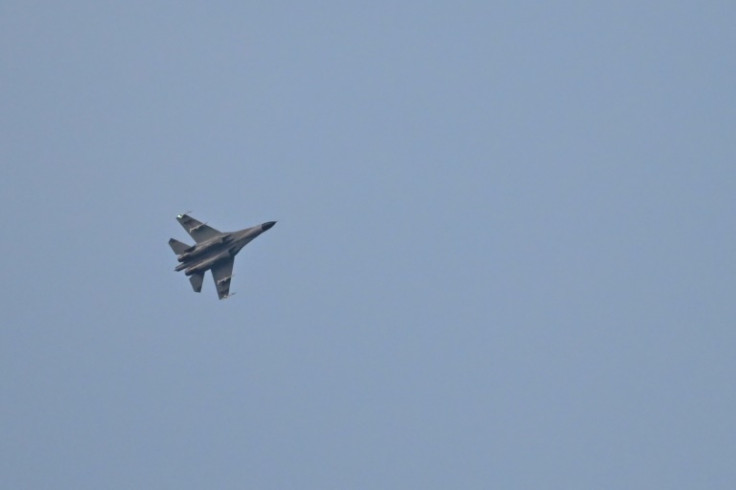 © Copyright IBTimes 2023. All rights reserved.