People's Climate Change March NYC: Diverse Coalition Of Activists Demands Action On Climate Change
Hundreds of thousands of climate activists packed streets in Manhattan Sunday to chant, whistle, drum, strum and broadcast demands on poster boards, banners, basset hounds, shirts, stickers, colossal globes and even a Noah's ark replica -- all calling on governments and corporations to pledge firmer commitments to tackle global warming. The People's Climate March drew participants from across the country and the world, representing unions, environmental lobbies, religious groups, scientists, politicians, students and others of various ages and ethnicities.
"I'm hoping it will be the largest gathering of its kind in American history," said writer and recent Brown University graduate Abigail Savitch-Lew as she rode the subway to the event.
"We want our leaders to take climate change more seriously," said her mother, Dorothy Savitch, a music teacher in Brooklyn and a 10-year climate march veteran.
The march comes as world leaders prepare to discuss climate policy at the United Nations Tuesday. About 2,500 smaller climate marches were held around the world, including London, Paris, Madrid and Cairns, in Australia. In New York, U.N. chief Ban Ki-moon, Hollywood actor Leonardo DiCaprio, former U.S. Vice President Al Gore and New York Mayor Bill de Blasio marched down Sixth Avenue.
The walk began about 11:30 a.m. and covered two miles through midtown Manhattan, with protestors lined up more than a mile behind the starting point and still waiting to move for hours after the event began. Just before 1 p.m., organizers hushed the crowd for a moment of silence, then blasted a whistle signaling an alarm on climate change. Activists joined in with whoops, drumbeats, tambourines and clapping.
Organizers said the turnout was much better than expected, estimating some 600,000 people participated globally, with about 400,000 marchers in New York.
"I hope this is the day that they save the world, but it's just fantasy, just dreams," said Richard Traunstein, 73, a medical marijuana farmer from California who wore a red bandit mask.
D.R. Tucker, a conservative blogger and freelance writer, came to the march with Citizens' Climate Lobby, an international environmental group that trains volunteers to build relationships with their political representatives to influence climate policy. He became "overwhelmed by the evidence" the global climate is changing after reading a report by the Intergovernmental Panel on Climate Change, a scientific body established by the U.N.
"We want Congress to take a market-based approach to capping carbon emissions," Tucker said. "A lot of Republicans are saying privately this is a good idea, but they need that nudge. I think this march will give them that nudge."
Several student groups also joined the march, including groups from New York University, Princeton University and The New School.
"We're trying to position ourselves as leaders on climate change," said Molly Johnson, a graduate student studying environmental policy and sustainability management at The New School who led about 300 students at the event.
Veena Kulkarni, a pianist, and Jan Wright, a retiree, traveled from Ann Arbor, Michigan, to represent the Interfaith Council for Peace and Justice, a group that pools people with shared ethical values to tackle environmental issues as well as poverty and violence.
"This is about caring for God's creation, loving our neighbors and protecting the greatest work of art, our planet and our home," Kulkarni said.
"I think it empowers all of us," said Suzanne Carreker-voigt, a small-scale vegetable farmer from Saratoga County, New York. "We're all together to bring home to our politicians that climate change is happening and we need to do something -- these are the voters."
Correction: A previous version of this story said organizers estimated 600,000 people marched in New York. People's Climate March estimates 400,000 marched in New York and 600,000 globally.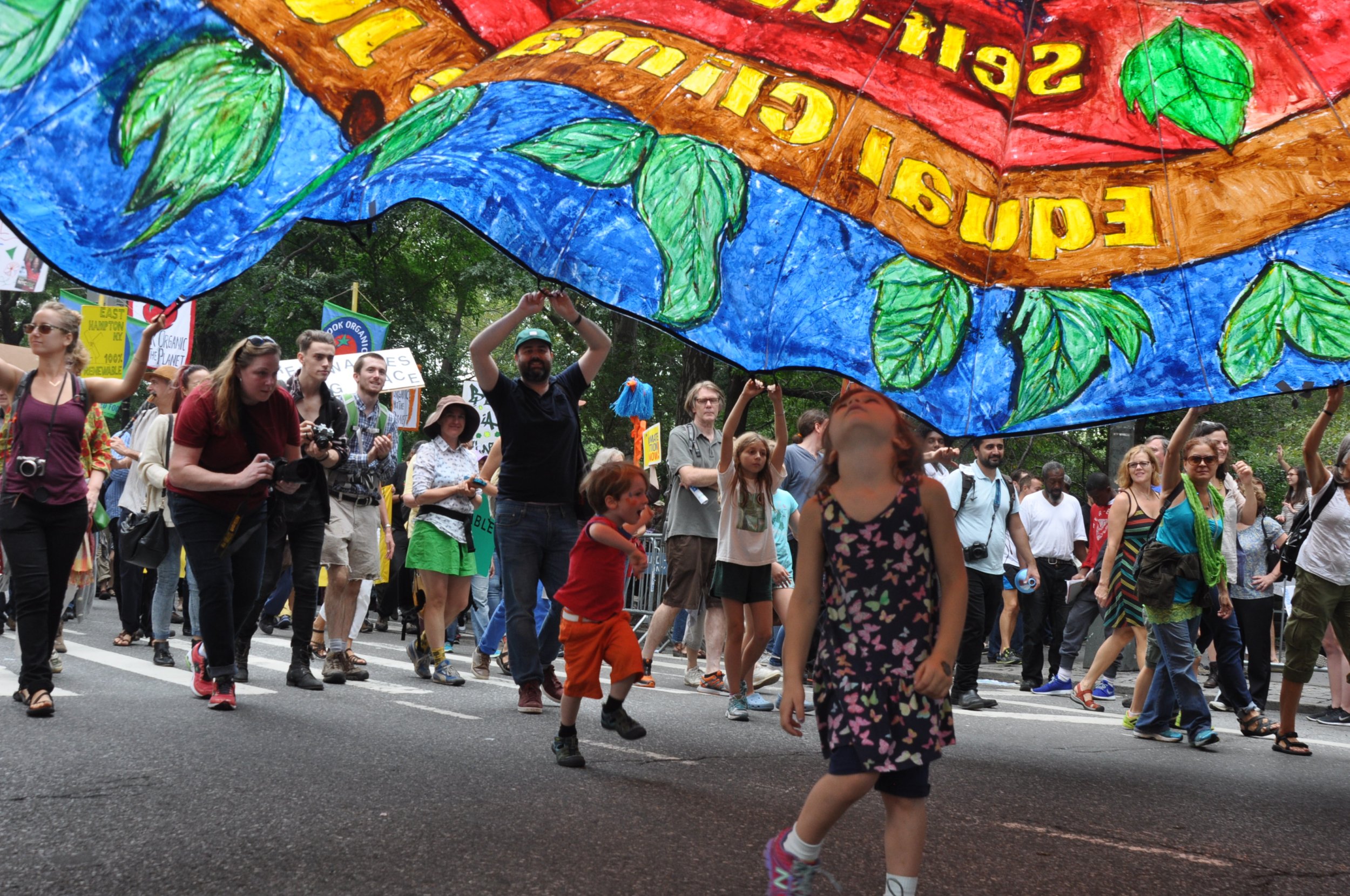 © Copyright IBTimes 2022. All rights reserved.
FOLLOW MORE IBT NEWS ON THE BELOW CHANNELS