People's Climate March London: Thousands Protest 'Biggest Threat To Humanity'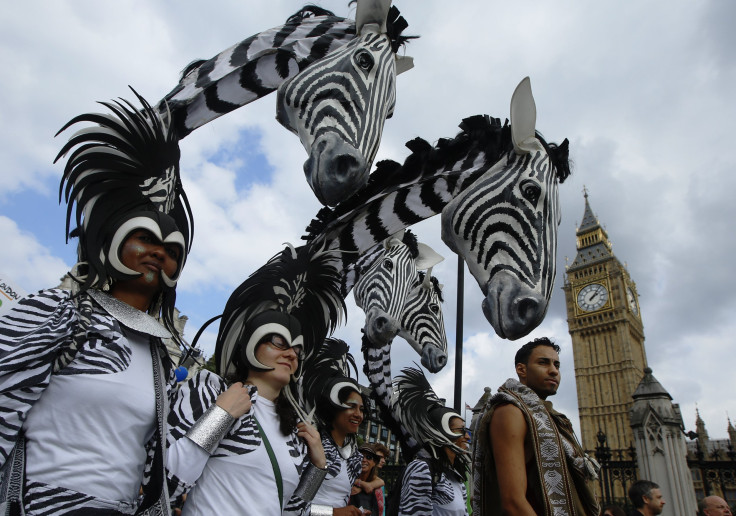 #PeoplesClimate was trending on Twitter as more than 10,000 were expected at the London installment of the People's Climate March series around the world Sunday. The marches and rallies are aimed at demanding urgent action on climate change. Other mass demonstrations were taking place in cities such as Berlin, New York and Rio de Janeiro, as well as Lagos, Nigeria, and Melbourne, Australia. In all, there are about 2,000 events in 150 countries scheduled ahead of a United Nations Climate Summit this week.
The U.N. summit in New York is being headed by Secretary-General Ban Ki-moon to mobilize debate and discussion before a major conference in Paris next year, where it is hoped agreement on a new global climate treaty can be reached.
Ahead of the London rally, actress Emma Thompson told the Daily Mail: "Every single person on this Earth has the power to change the world. And when we all come together, our power becomes irresistible. Together we have built countries and cultures and technologies. Now we must use our power to tackle the biggest threat humanity has ever faced."
The U.N. Climate Summit will take place Tuesday at the organization's headquarters. It will be attended by more than 120 world leaders, including British Prime Minister David Cameron.
Friends of the Earth's head of campaigns, Andrew Pendleton, said: "Time is running out to avoid catastrophic climate change -- international talks are not enough, we need urgent action, too. The developed world, which is chiefly responsible for the crisis we face, must take the lead by cutting its emissions furthest and fastest."
Pendleton added: "The U.K.'s environmental credibility has been sinking for years. The government has been bending over backward to develop fracking and extract more dirty gas and oil, instead of investing in the U.K.'s huge renewable power potential and a cleaner future for us all."
FOLLOW MORE IBT NEWS ON THE BELOW CHANNELS