Perfect Storm 2012: 'Frankenstorm' Projected Path Headed For New York City, New Jersey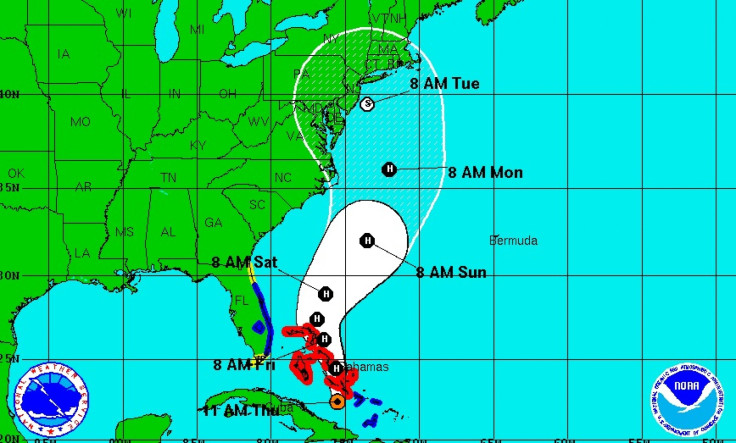 A nasty mixture of weather systems, which forecasters are now calling "Frankenstorm," is set to blast most of the East Coast next week, with the worst of its weather mayhem hitting New York City and New Jersey.
The National Oceanic and Atmospheric Administration has pretty much confirmed next week's Halloween-themed "Frankenstorm," saying there's a 90 percent chance that the East will get bombarded with gale-force winds, heavy rain, flooding and maybe snow starting Sunday and stretching past Halloween on Wednesday.
Some meteorologists are going as far as to say that the highly anticipated "Frankenstorm" is likely to cause $1 billion in damages along the East Coast.
"The [1991] Perfect Storm only did $200 million of damage, and I'm thinking a billion," Jeff Masters, meteorology director of the private service Weather Underground told the AP. "Yeah, it will be worse."
Masters is referring to the "Perfect Storm" that struck off the coast of New England in 1991. With the "Frankenstorm" consisting of Hurricane Sandy, now in the Caribbean, an early winter storm in the West, and a blast of Arctic air from the North, Masters and many meteorologists are drawing strong comparisons between the weather systems.
The three systems are predicted to collide and park over the country's most populous coastal corridor and reach as far inland as Ohio.
Reports out of the National Oceanic and Atmospheric Administration indicate that the hurricane part of the storm is likely to come ashore somewhere in New Jersey on Tuesday morning. But according to NOAA forecaster Jim Cisco, this is a storm that will affect a far wider area, so people all along the East have to be wary.
Once the hurricane part of the storm hits, "it will get broader. It won't be as intense, but its effects will be spread over a very large area," the National Hurricane Center's chief hurricane specialist, James Franklin, told AP Thursday.
Forecasters predict the worst of "Frankenstorm" to peak early Tuesday, but it will stretch into midweek.
According to Cisco, who is cited by AP, weather may start clearing in the mid-Atlantic the day after Halloween and Nov. 2 in the Northeast.
"It's almost a weeklong, five-day, six-day event," Cisco said Thursday from NOAA's northern storm forecast center in College Park, Md. "It's going to be a widespread serious storm."
Numbers out of the NOAA estimate that the New York area could see around 5 inches of rain during the storm.
Both private and federal meteorologists are calling this a storm that will likely go down in the history books, according to the Associated Press.
© Copyright IBTimes 2023. All rights reserved.