Peyton Manning Stats: Broncos Quarterback Retires With Several NFL Records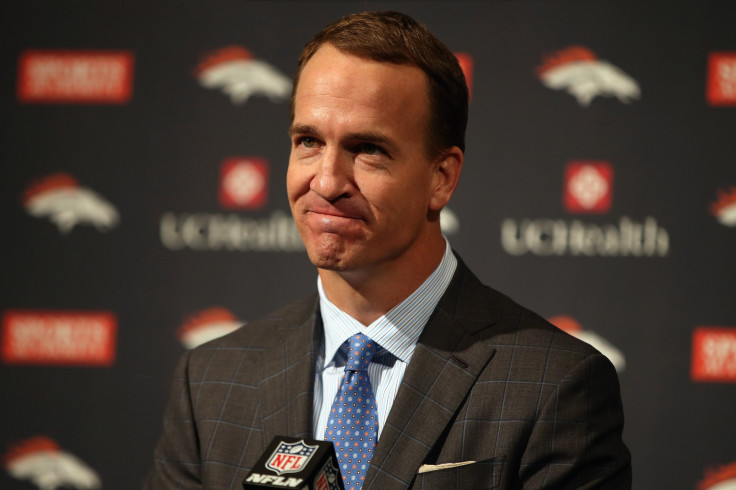 Peyton Manning has retired a month after winning his second Super Bowl, but the quarterback will be most remembered for the incredible numbers he put up throughout his career. He holds several records that could stand for years, and his individual statistics are the best the NFL has ever seen from a quarterback.
Manning was a shell of his old self in his final season, but he still managed to surpass Brett Favre and set the all-time record with 71,940 career passing yards. His 539 passing touchdowns are a record that could stand for decades.
Favre is still ahead of Manning in most completions and pass attempts, but the newly retired quarterback was much more efficient. Manning played 266 games to Favre's 302, and he threw 85 fewer interceptions. Manning was more reckless early in his career, throwing 28 picks as a rookie, but he greatly improved in that area as he gained more experience. In four seasons, Manning completed more than 300 passes while throwing just 10 interceptions.
Manning was as consistent as any quarterback to play the game, throwing for at least 4,000 yards in 14 seasons, while being named to the Pro Bowl 14 times. Even though he played most of his career at the same time as all-time great Tom Brady, Manning still managed to win a record five MVP awards and be a first-team All-Pro selection seven times.
At his peak, Manning did things on the football field that could not be matched. His seasons in 2004 and 2013 were among the best ever to be complied by an NFL player at any position. In 2004, he set a then-record with 49 touchdown passes and a 121.1 passer rating. Nine years later, Manning set records with 5,477 passing yards and 55 touchdown passes, leading the Denver Broncos to the Super Bowl in his second year with the team.
Peyton Manning Career Passing Stats | PointAfter
Playing for the Indianapolis Colts and Broncos, Manning helped turn around both organizations. The Colts had just two playoff wins in the 26 years before drafting Manning first overall, and would go on to reach the postseason all but one season from 1999-2010. The Broncos had just two playoff wins after John Elway retired in 1999, and Manning brought them four division titles and two trips to the Super Bowl.
While Manning is sometimes criticized for coming up short in big games, he is the only starting quarterback to win Super Bowls with two different teams. His 200 combined wins in the regular season and playoffs are a record, and he won at least 10 games in 14 different seasons. Manning also holds the record with 45 fourth-quarter comebacks.
Off the field, Manning holds the record for most money made as an NFL player. He earned nearly $249 million during his 18-year career, and he retired with one year left on his contract worth $19 million.
© Copyright IBTimes 2023. All rights reserved.