Peyton Manning vs. Tom Brady Endorsements: Who's No. 1 In Commercial Appeal?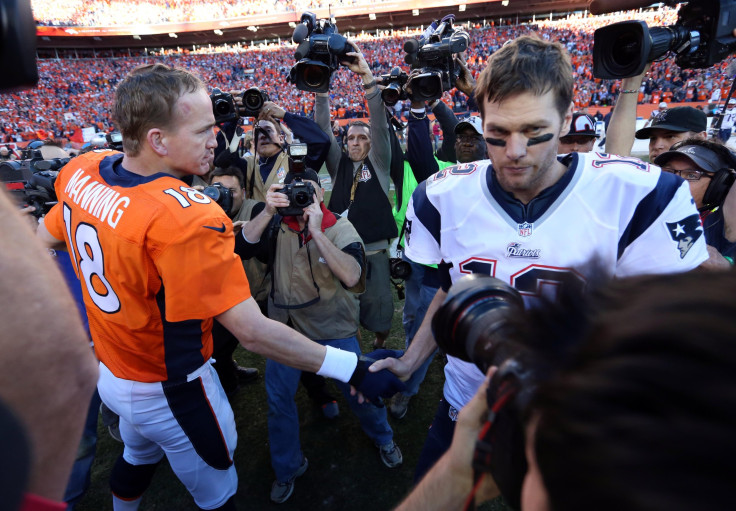 Within the lines of the gridiron, Peyton Manning and Tom Brady are as accomplished as pro quarterbacks come. As the two stars match up once again this Sunday in a marquee clash, both bring Super Bowl titles, passing records and near-certain locks on Hall of Fame enshrinement.
Yet in another competition, one measured in endorsement dollars secured, Manning is the clear leader. With his classic good looks and supermodel wife, Brady earned some $7 million through endorsement deals last year, according to Forbes -- far less than the $12 million taken home by Manning, who out-earned every other NFL player.
The gap indicates nothing about qualitative differences on the field and everything about how starpower translates into endorsement deals, say people who make their living moving product. Brady and Manning both rank as icons in American life, yet Manning brings something demonstrably more valuable -- an ability to project regular-guy cred and a sense of humor about himself.
"Peyton Manning seems like a guy you want to grab a beer with at a sports bar and talk football all day. He seems like an approachable guy," said Tom O'Grady, a sports branding expert and chief creative officer at Gameplan Creative. "[Brady] has a little more of a 'Hollywood' persona, even though he's playing in New England. If L.A. ever got a team, he'd be a great Los Angeles quarterback."
Brady has endorsement deals with Uggs, Movado watches and Glaceau Smartwater, premium brands that aim to sell to the guy in the luxury box. The affable Manning appears in commercials for Papa John's pizza (in fact, Manning purchased 21 Papa John's locations in Colorado), DirecTV, Buick and Nationwide, which aim for the fan sitting in the bleachers. And there are many, many more fans sitting in the bleachers than in the luxury box.
"Those are mainstream brands that are somewhat a reflection of Peyton. I would assume that he's probably more comfortable supporting brands like those, just because of who he is. Those are just extensions of his own character," O'Grady said. "The agencies have used that kind of next-door, 'can I grab your hedgecutters?' type of approach and he sells it very well."
"I just can't see Peyton Manning wearing a set of Ugg boots."
Conversely, the same attributes that make it difficult for Brady to seem relatable to the common man make him the perfect pitchman for luxury products. Brady and his associates have limited his visibility, focusing on brands that establish the Patriots star as the embodiment of class. This selectivity detracts from Brady's mass appeal but bolsters the perception that a Brady-endorsed item is a prestigious item.
Gisele Bundchen's presence may also play a role in Brady's business decisions. The quarterback's glamorous wife, a former Victoria's Secret Angel, has been the world's highest-paid model for the last eight years, with lucrative endorsements that include deals with H&M, Chanel and countless other high-fashion brands. In 2014, she joined Brady in endorsing Under Armour, a company that is pushing to compete with Nike at the pinnacle of the sports apparel industry.
"They seem to feed off one another in that respect," O'Grady said. "They've got this quasi-connected brand, the husband and wife thing. It's a modern day Joe DiMaggio-Marilyn Monroe thing. There's a certain kind of star chemistry to that, and maybe Tom's very comfortable in those shoes."
Brady's approach to endorsement deals is also more sustainable, argues Allen Adamson, North America region chairman at Landor Associates. A sports performance company like Gatorade will lose interest in Manning once he's out of football, but Brady will be able to sell watches long after he retires. Manning's willingness to promote Papa John's discount pizza deals or wear a wig in a faux-music video could hinder his ability to go "off-market" to promote a higher-end product, Adamson said.
"You have to make a choice. If you're going to go for the premier, premium brands, you have to stay there and be that," he said. "The minute you cross over and try to do everyday brands, you won't be appealing anymore to the prestige brands. Manning may be making more money in the short-term, but it's a very long game."
But for now, the quarterbacks' strategies could hardly be working better. In pursuing their off-field ventures, Brady and Manning have each established marketable personas that satisfy their unique dispositions -- and made a ton of money in the process.
"If they were competing for the same products off the field, they probably wouldn't be as successful," O'Grady said. "It's almost like Peyton's like, 'you stay out of my category, I'll stay out of your category and we'll both make a lot of money.'"
© Copyright IBTimes 2023. All rights reserved.