Philadelphia 76ers Want All-Star Guard Back On Three-Year Deal
KEY POINTS
Daryl Morey wants James Harden to sign a three-year deal, but upper management thinks otherwise
Harden has a $47 million player option this offseason
The 76ers also need to explore the free-agent market for depth at the wings
The Philadelphia 76ers failed to get past the Miami Heat in the Eastern Conference semifinals and must now address some pressing concerns this offseason, starting with newly-acquired guard James Harden.
The former Brooklyn Nets point guard played below his level during the series, and it brought on questions of how much he has left in the gas tank as the wear-and-tear of multiple NBA seasons have seemingly caught up to him.
But for 76ers vice president Daryl Morey, the franchise wants to make the most out of the remaining years in Harden's prime by signing him to an extension.
"I've been told that ownership wants him (Harden) to opt into the $46.9 million deal for the 22/23 season, which is no surprise. I've been told Morey he wants that to be a three-year deal," as reported by Kevin O'Connor on an episode of The Void podcast.
Keeping Harden on the team is of utmost importance after dealing for him in the blockbuster trade deadline deal that sent Ben Simmons to the Nets in exchange for Harden.
The high-scoring guard went on to average 21 points on a putrid 40.2% shooting clip plus 7.1 rebounds, 10.5 assists, and 1.2 steals in 21 games with the 76ers.
He would later put up 18.6 points a field goal shooting percentage of 40.5 with 8.6 assists and 5.7 rebounds in the postseason–the 18.6 points being the lowest average of his career since the 2012 playoffs.
Morey's comment is almost surely referring to the massive $47.4 million player option that Harden has for the upcoming season, and it would be ludicrous of him not to take it as the 76ers may not want to offer an oft-injured 33-year-old guard a max contract.
However, this also means that he would have to play the best basketball of his already stellar career if he wants to parley it into an even bigger deal in the summer of 2023.
The 76ers will also need to explore the free agency market for some upgrades to their depth, particularly to their wing as Danny Green's production is slowing down in relation to his age.
Not ensuring Harden's long-term future with the 76ers does put a damper on the prime years of Joel Embiid, so it would be up to the front office to find a deal that is amenable to them and the former third overall pick.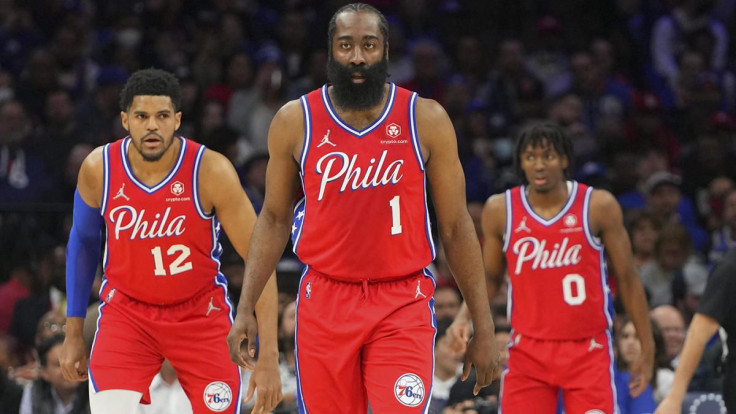 © Copyright IBTimes 2023. All rights reserved.