Warriors Superstar Exorcises Demons By Winning First NBA Finals MVP
KEY POINTS
Stephen Curry captured his first NBA Finals MVP after four title runs
Curry put up 30.6 points, 5.8 rebounds, 4.6 assists, and two steals in the finals
Winning the award finally silences those who deem him as not one of the greatest players in league history
Golden State Warriors superstar Stephen Curry has finally achieved the one accolade that has been missing on his impressive resume--the NBA Finals MVP.
Curry's impact on the Warriors' run to the title this season cannot be understated as the weight of expectations was mainly on his shoulders this time around.
Without a fellow superstar like Kevin Durant, few believed that the Warriors were going to ever make it back to the top of the league.
Averaging 30.6 points, 5.8 rebounds, 4.6 assists, and two steals in the Finals, Curry was the main man for the Warriors and everyone watching the finals knew that he was on a mission to silence his doubters.
The biggest criticism of Curry's illustrious career thus far has been that he was not the most effective contributor in their past three title runs, which can be deemed as unfair because of how team-oriented the Warriors' system is.
The Boston Celtics threw everything at Curry during the entire six games, but he proved to everyone that he was not going to be stopped on his mission.
Curry knew that the elusive Finals MVP was finally within his grasp in the dying moments of Game 6, letting his emotions run free with tears in his eyes and finally crashing to the floor when the final buzzer of the season sounded.
NBA commissioner Adam Silver was not present for the awarding ceremony after being placed in the league's health and safety protocols, and the task of awarding Curry his MVP fell to deputy commissioner Mark Tatum.
Speaking with ESPN's Lisa Salters, Curry took time to address his naysayers.
"I hear all of the conversations, all the chatter, we hear all the chatter. At the end of the day, it's about what we do on the floor. Ain't got to talk about it, we just got to go do it. That's what this is about," he said.
At this point, Curry has nothing left to prove to anyone after dominating the league thanks to his ability to score at will and dissect opposing defenses, best evidenced by his and the Warriors' fourth NBA title since 2015.
But for a competitor of his caliber, NBA fans can expect to see them go for their second back-to-back title next season.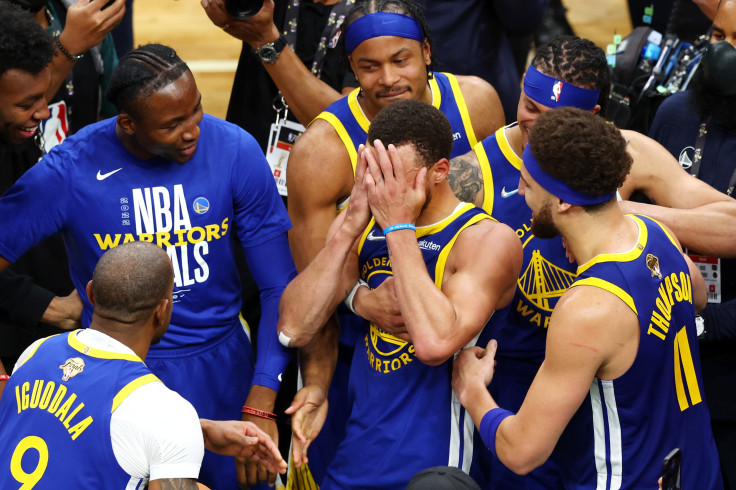 © Copyright IBTimes 2023. All rights reserved.