Philippine Presidential Election: Jejomar Binay, Grace Poe Tied In New Survey As Elections Agency Disqualifies Poe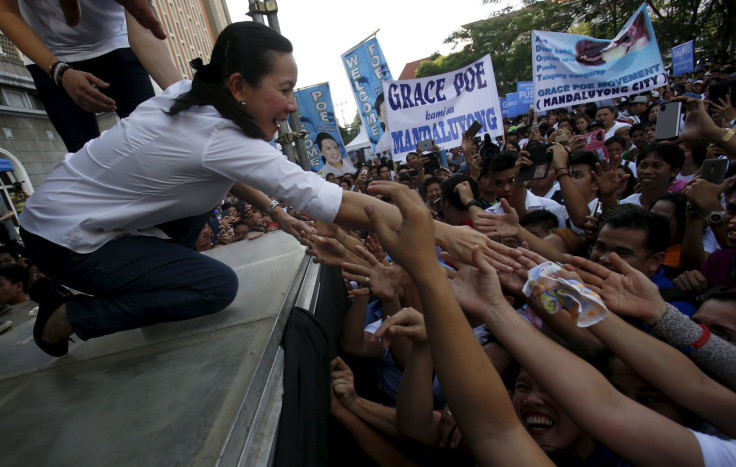 A third survey in as many days showed Philippine presidential candidates in different positions, raising uncertainty about the outcome or the polling. Adding to the uncertainty, the Commission on Elections reportedly upheld its decision to disqualify one of the front-runners, Sen. Grace Poe, who said she would appeal to the Supreme Court.
Poe and Vice President Jejomar Binay were tied at 26 percent while administration candidate Manuel Roxas was at 22 percent in the Dec. 12 to Dec. 14 survey released Wednesday by Social Weather Stations, one of the country's two biggest polling organizations. Their popularity is little changed from the SWS' previous survey in September.
The big change is with Davao City Mayor Rodrigo Duterte, who climbed to 20 percent from 11 percent in September.
The results contrast with a December survey released on Tuesday by Pulse Asia, the other large polling organization, which showed Binay jumping to 33 percent from 24 percent and Poe slumping to 21 percent from 39 percent. Meanwhile, another December survey by Laylo Research released on Monday also showed Poe's support sliding while Binay's was unchanged.
Poe is battling moves to disqualify her on citizenship and residency grounds. Poe's citizenship is in question because she was adopted and her biological parents are unknown. She studied and then settled in the U.S. from 1989 to 2005, and was a U.S. citizen from 2001 to 2006. Earlier this month, the Commission on Elections ruled against her in two rulings. On Tuesday, the Commission on Elections voted to uphold its decision, according to various media reports. Poe said she would appeal to the Supreme Court.
The election is in May and President Benigno Aquino III is barred from seeking a second term. His successor needs to maintain one of the fastest economic growth rates in Asia while making bigger strides in reducing the poverty and unemployment that forces millions to leave their families to work abroad. His successor will also decide on whether to maintain Aquino's tough stance against China's expansionism in the South China Sea, which the U.S. is helping with by giving the Philippines decommissioned military equipment.
© Copyright IBTimes 2023. All rights reserved.