Philippine Presidential Election: Poe Embraces 'Drama'; Binay Promises Tax Cuts, Roxas Jobs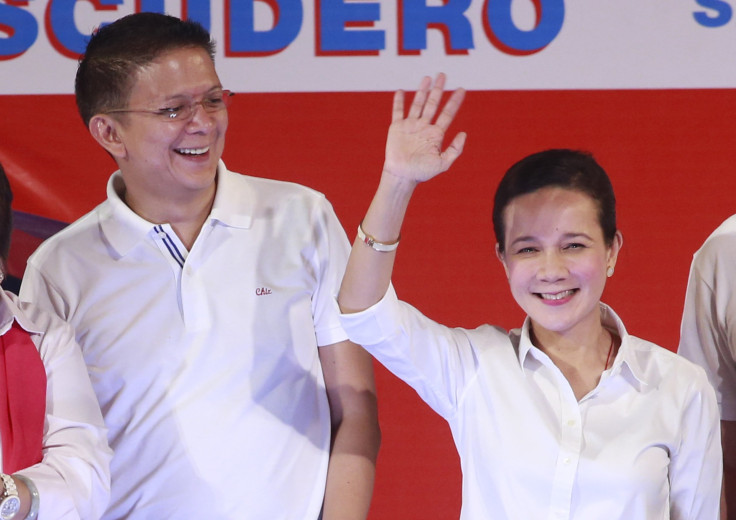 MANILA — Philippine presidential front-runner Sen. Grace Poe took a potshot at administration candidate Manuel Roxas as the official 90-day campaign period started Tuesday. Roxas and Vice President Jejomar Binay, also a candidate, promised jobs and tax cuts.
Roxas, a member of one of the country's richest families and whose grandfather was president of the Philippines in the 1940s, has been running an ad in which he says he didn't grow up poor and doesn't have a dramatic life story but that the election isn't about him but the Filipino people. He is widely seen to be referring to Binay, who underlines his rise from poverty, and Poe, who was abandoned in a church as a baby before she was adopted by one of the country's biggest movie star couples.
"There are people who say my life has too much drama, but like my countrymen, I've experienced hardship and pain," Poe said at her kickoff rally outside Manila's Quiapo church, a popular shrine for the country's Catholic majority. Her rally, like those of her rivals were held and broadcast right before early evening newscasts. "My life story started in a church, so I thought it right to launch my campaign beside one."
Her story is clicking. In the latest survey taken Jan. 24 to 28 and released last weekend by Pulse Asia, one of the country's two biggest political pollsters, she reclaimed the lead from Binay, jumping from 21 percent to 30 percent. Binay dropped from 33 to 23 percent and Roxas rose from 17 to 20 percent. Rodrigo Duterte, mayor of the southern city of Davao, slipped from 23 percent to 20 percent.
Some analysts attributed Poe's recovery to speculation that moves to disqualify her will fail. She is facing possible disqualification on two counts. As a "foundling," it's unknown if her biological parents were Filipinos and therefore unclear if she a "natural-born" Filipino, a constitutional requirement for the presidency. And it's unclear whether she fulfills a 10-year residency requirement.
While Poe says she returned to live in the Philippines in 2005 after 15 years in the U.S., the issue is muddled by when she gave up U.S. citizenship and sold her house in Fairfax, Virginia, when she stopped using her U.S. passport and what she declared in her certificate of candidacy for the Senate three years ago. Some have made an issue of her husband and children remaining U.S. citizens. The case has reached the Supreme Court, which heard oral arguments on it Tuesday.
"To those trying to sully my name, I'm ready to defend my being Filipino here and now," Poe said. "Before the people and in the eyes of the Lord and Jesus, I am Grace Poe: mother, daughter, Filipino."
In his home province of Iloilo, Roxas remained silent on Poe while seeming to attack Binay, who — together with his son, now suspended as mayor of Makati, the country's financial capital — is facing a series of corruption complaints. Their bank accounts have even been frozen. Binay has denied the allegations, saying they are politically motivated.
"We won't allow ourselves to lose to a thief," Roxas said.
On the economy, Roxas repeated his claim to have fathered the country's outsourcing industry — which employs 1.1 million and brings in $21 billion a year — and promised an encore. Roxas has said he discovered, promoted and expanded the industry when he was trade secretary after the Asian financial crisis in the 1990s.
"This industry brings more than 20 billion dollars to the country," the Philippine Daily Inquirer reported Roxas as saying. "I've done this before, I'm confident we can do it again."
Binay, speaking in a slum in Mandaluyong, Manila, said he was for income tax cuts — which Roxas has cautioned about — and expanding the government's conditional welfare program, where a reported 4 million poor families get cash for keeping their kids in school. He belittled the country's economic growth, the fastest in Asia after China and Vietnam.
"The biggest, best economy doesn't matter if many remain hungry," Binay said. "Millions can't find jobs."
Boxer Manny Pacquiao, a Binay senatorial candidate, was at the rally and said the vice president is destined to win. Also present was Sen. Juan Ponce Enrile, who turns 92 this weekend and is out on bail while facing corruption charges.
Meanwhile Sen. Miriam Santiago, who is at 4 percent, kicked off her campaign in Ilocos Norte, home province of her running mate Sen. Ferdinand Marcos Jr. Marcos is No. 2 in the vice presidential race; the posts are voted on separately in the Philippines. If he wins, he will be the proverbial heartbeat away from the post his father held for 21 years and was ousted from 30 years ago this month.
© Copyright IBTimes 2023. All rights reserved.