Philippines Accuses China Of Reclaiming South China Sea Reef [PHOTOS]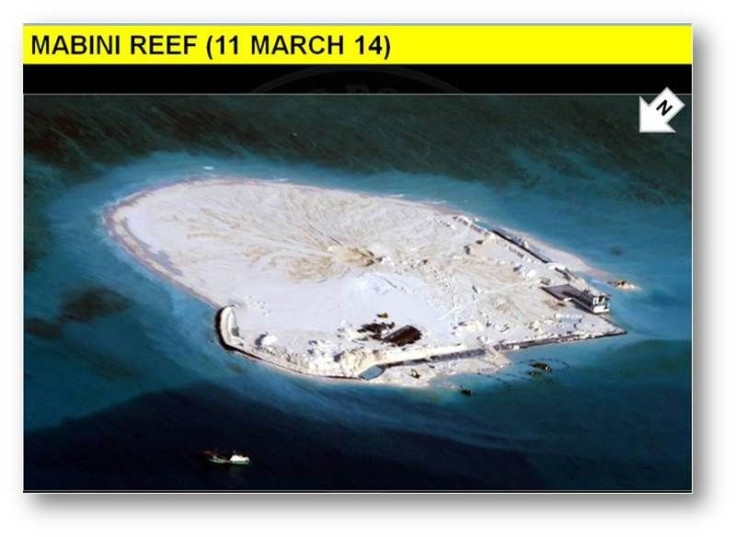 The Philippine government released a series of photos Thursday that it said shows China reclaiming a reef in the South China Sea, which Manila claims is part of the Philippines, and called the move "destabilizing."
China disputed the Philippines' claim that Mabini Reef, which is uninhabited, is part of its territory and said the area where the reef is situated in the South China Sea is part of Chinese territory, a Foreign Ministry spokesman told Associated Press.
The photos of Mabini Reef, also known as the Johnson South Reef, were gathered by Philippine intelligence sources and released Thursday by the Philippine Department of Foreign Affairs. The series of photos starts with a picture dated March 13, 2012. The first picture shows the reef is untouched. Later photos from February 2014 show a vessel and the reef being developed as white sand appears in the pictures. The last picture, dated March 11, shows a structure on the northeast side of the reef.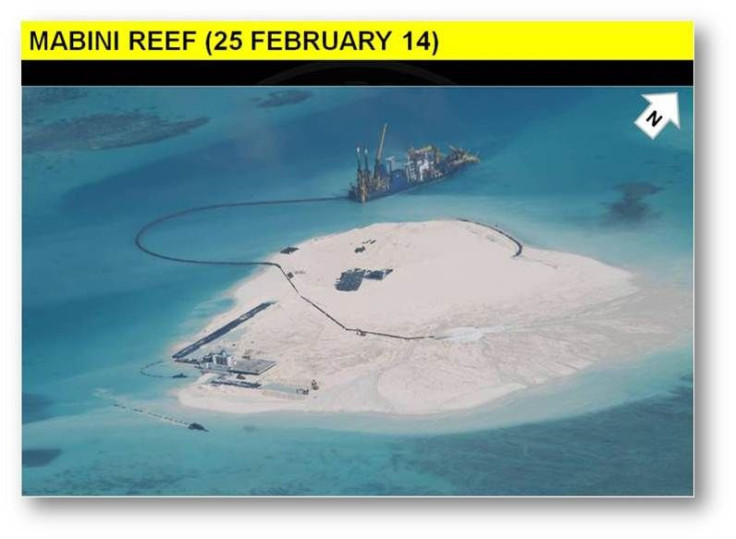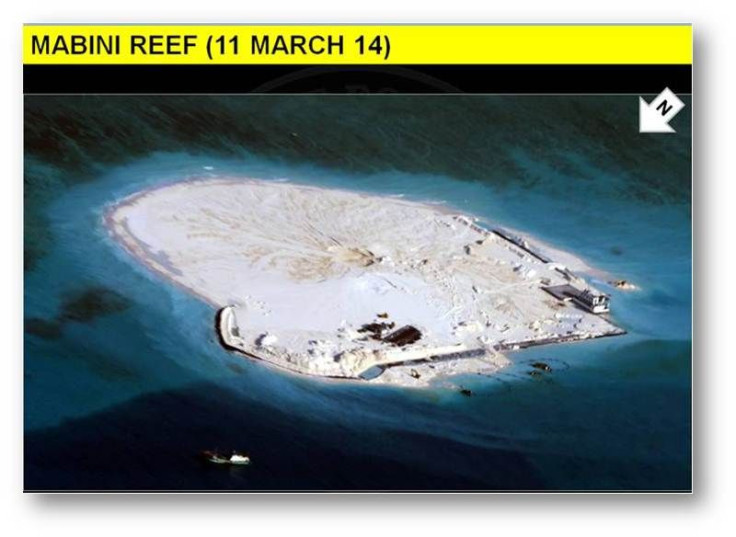 The Philippines is unsure what is being built on Mabini Reef, but Philippine Foreign Secretary Albert del Rosario told AP that Beijing might be building an airstrip. The reef may be built into a military base and a refueling and resupply hub, said an unnamed senior government official, who added that the reclamation was detected six months ago.
"These actions are considered destabilizing and in violation of the Declaration on the Conduct of Parties in the South China Sea (DOC) and international law. Mabini Reef is part of the Kalayaan Island Group (KIG) which is part of Philippine territory," Manila said.
Manila's statement referred to a nonbinding pact between China and 10 Southeast Asian nations that urges signers to hold back on acting in ways that would "complicate or escalate disputes" in the South China Sea, Philippine Foreign Affairs spokesman Charles Jose told AP. He added that China's moves are part of Beijing's strategy to take over the whole South China Sea.
Benigno Aquino III, president of the Philippines, called for a stronger agreement with China and an international arbitration process to prevent escalations in the South China Sea, according to AP. His government proposed the arbitration in January when Chinese ships took control of a shoal claimed by the Philippines.
© Copyright IBTimes 2022. All rights reserved.
FOLLOW MORE IBT NEWS ON THE BELOW CHANNELS