Philippines' Duterte Tells US To Forget About Defense Deal Ahead Of Japan Visit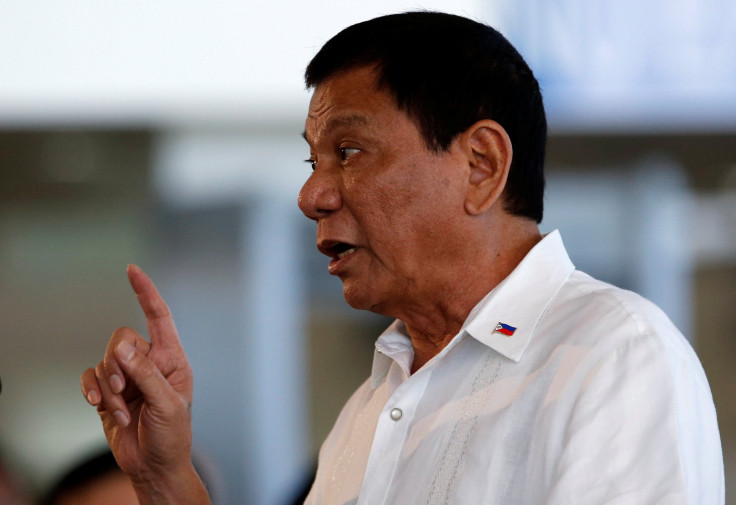 Philippine President Rodrigo Duterte said Tuesday if he stays in power long enough, the U.S. can forget a bilateral defense deal between the two nations. He also accused the U.S. of treating the Philippines "like a dog with a leash."
The comments follow his statement last week in which he signaled a shift from the country's long-standing ally, the U.S., adding that Philippines' "foreign policy veers now towards" China. Duterte has been dropping hints of shifting from Washington in several instances. The latest comments come just before the 70-year-old leader leaves for a visit to Japan, a staunch ally of the U.S.
"You have the EDCA [Enhanced Defense Cooperation Agreement], well forget it. If I stay here long enough," he reportedly said Tuesday. "I do not want to see any military man of any other nation except the Filipino. That's the only thing I want."
However, he did not explain what he meant when he spoke of staying in charge for a longer period. A president is allowed only one six-year term in the Philippines.
The new comments are in contrast to his statement Monday where he said alliances with the U.S. are "alive" and that Manila will only have an "alliance of trade and commerce" with China.
"The alliances are alive," Duterte reportedly said. "There should be no worry about changes of alliances. I do not need to have alliances with other nations."
Duterte is to meet Japan's Prime Minister Shinzo Abe on Wednesday during which Abe is expected to emphasize on the importance of the U.S. alliance in maintaining peace and stability in the region, the Wall Street Journal reported citing Japanese officials.
Duterte said Tuesday his four-day visit to Japan would be a "defining moment" in the "solid and strategic partnership" between the Philippines and Japan.
© Copyright IBTimes 2023. All rights reserved.