Philippines President Duterte Calls US Ambassador Philip Goldberg A Gay Son Of A Bitch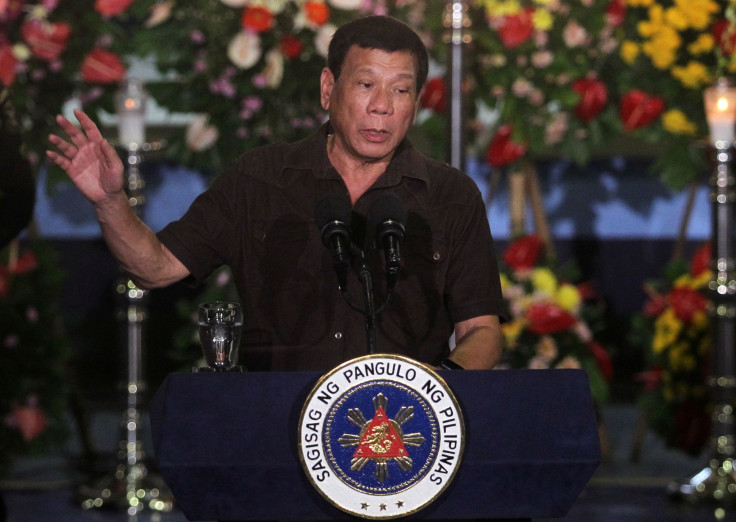 Philippines President Rodrigo Duterte criticized the U.S. ambassador to the island nation by calling him "gay." Duterte was discussing his recent campaign for president with soldiers in Cebu last week, when he singled out Philip Goldberg, who has served as ambassador to the Philippines since November 2013 and has been critical of Duterte's remarks about sexual violence.
Duterte told the soldiers he and Goldberg disagreed during the campaign after Duterte made a joke about the rape and murder of Australian missionary Jacqueline Hamill during a 1989 Davao City prison riot. "I am OK with him," Duterte said of U.S. Secretary of State John Kerry, before adding, "I quarreled with his gay ambassador. I am pissed with him. He meddled during the election, giving statements here and there. He was not supposed to do that."
He also added, according to Yonhap news agency: "That son of a bitch really annoyed me."
In April, Duterte drew international criticism after he made light of Hamill's rape in Davao City. "What a pity. What came to my mind was, 'They raped her, lined up for her.' I was mad because she was raped? Yes. That's one reason. But she was so beautiful. The mayor should have been first," said Duterte, who was mayor of Davao City in the southern Philippines at the time.
Australian Ambassador Amanda Gorely responded by calling violence against women unacceptable. She said it should not be "trivialized" and was backed up by the United States.
"I can only agree with the colleague from the Australian Embassy," Goldberg said in an interview aired by CNN Philippines in April. "Any statements by anyone, anywhere that either degrade women or trivialize issues so serious as rape or murder, are not ones that we condone."
Duterte responded that Goldberg "should not interfere with our national election," and threatened to end relations with the U.S., an important ally in the South China Sea amid rising tensions with China over territorial claims. Duterte went on to win the presidency in May with roughly 38.9 percent of the vote.
© Copyright IBTimes 2023. All rights reserved.