PHOTO: NASA Aqua Satellite Snaps Tropical Depression Danas Over Philippines
NASA's Aqua satellite flew over the Northwestern Pacific Ocean just in time this week to capture the visible image of tropical depression Danas as strong winds and heavy rains pummel large areas of the Philippines.
Danas formed northeast of the Northern Philippines and is now affecting Central Luzon, Southern Luzon, and the Western Visayas regions of the country.
Aqua is a NASA Earth Science satellite mission which collects data about the Earth's water cycle. The satellite carries ix Earth-observing instruments on board, which collects a range of global data set.
"Aqua is focused on the multi-disciplinary study of Earth's interrelated processes (involving the atmosphere, oceans, ice, and land surface) and their relationship to changes in the Earth system," NASA said of the Aqua satellite.
On July 16, the Moderate Resolution Imaging Spectroradiometer (MODIS) instrument aboard the satellite provided an image of Danas that showed a large depression over the length of the country.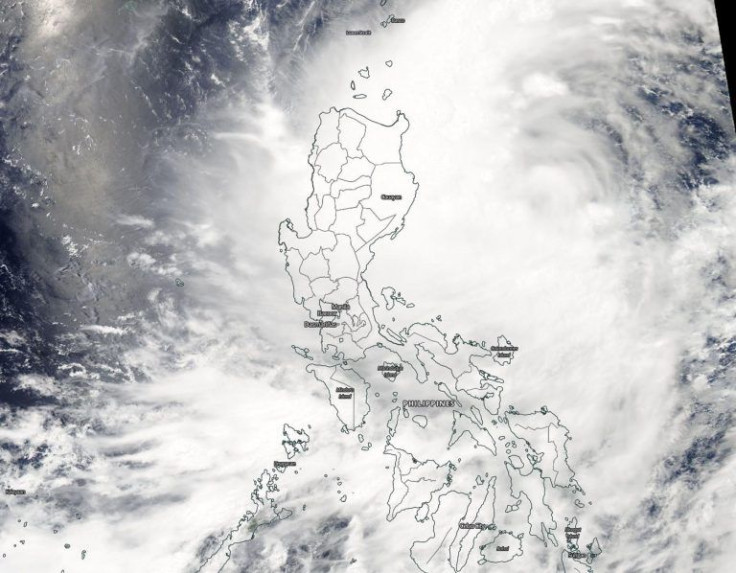 The satellite image showed that the strongest thunderstorms are off the coast but the northwestern and western quadrants were already over Luzon and Visayas regions.
The tropical storm slightly accelerated late Wednesday evening, while maintaining its strength and enhancing the southwest monsoon,
Citing the Philippine Atmospheric, Geophysical, and Astronomical Services Administration (PAGASA), Rappler said the storm is now 310 kilometers east northeast of Calayan, Cagayan, or 220 kilometers east of Basco, Batanes.
It was earlier moving north northeast at 20 km/h, but is now moving at a speed of 30 km/h. Danas continues to have 65 km/h and gustiness of up to 80 km/h.
Residents in areas affected by the storm and the enhanced southwest monsoon were advised to be alert for potential flash floods and landslides.
Danas is expected to leave the Philippine Area of Responsibility on Thursday evening, July 18, earlier than then previous forecast.
A 2013 Time report described the Philippines as the most storm-exposed country on Earth. It gets an average of 20 tropical cyclones every year but because of the EEl Niño only 14 to 18 tropical cyclones are expected this year.
Danas is the country's 6th tropical cyclone for 2019.
© Copyright IBTimes 2023. All rights reserved.